Goosebumps! Wankhede erupts as over 32,000 fans sing Vande Mataram as India reach World Cup final (WATCH)
More than 32,000 passionate cricket aficionados harmoniously sang the national anthem, Vande Mataram, in an emotionally charged demonstration of patriotism and elation at the Wankhade Stadium.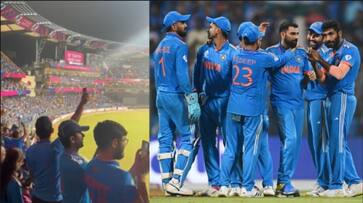 A spine-tingling moment unfolded at Wankhede Stadium as over 32,000 fervent cricket fans joined in unison, singing the national anthem, Vande Mataram, in an overwhelming display of patriotism and joy. The electric atmosphere surged as India secured a spot in the World Cup final against New Zealand, creating an unforgettable spectacle that resonated with the pride and passion of cricket enthusiasts. Watch as Wankhede Stadium erupts in celebration, embodying the spirit of a nation united in its love for the game and the country.
Mohammad Shami, with his seven-wicket haul, was the invincible man in the last four hours for India. He deserved to have a no.7 scripted behind his jersey too. The Men in Blue made it to the finals, which was a way to avenge missing out on a spot in the 2019 World Cup. India reached the final of the Cricket World Cup after a drought of 12 long years. The Kiwis saw the end of the road, and it was the Indian contingent that gave them a taste of their own medicine.
INDIA SECURES A SPOT IN THE FOURTH ODI WORLD CUP FINAL
For the fourth time, India has successfully advanced to the ODI World Cup final, having previously clinched the trophy in 1983 and 2011. India finished as runners-up in 2003, and the identity of their opponent in the title clash will be revealed on Thursday, with five-time champions Australia set to face South Africa at the Eden Gardens in Kolkata.
Last Updated Nov 15, 2023, 11:28 PM IST