Asia Cup 2023: Shoaib Akhtar expresses regret over missed opportunity for India-Pakistan final
Former Pakistan cricketer Shoaib Akhtar shares his disappointment over Pakistan's missed opportunity to face India in the Asia Cup final, following their elimination by Sri Lanka.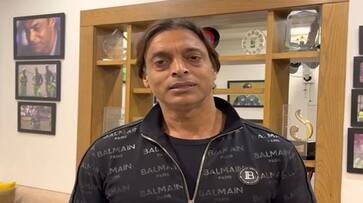 Shoaib Akhtar's disappointment was palpable as he reflected on the lost opportunity of witnessing an epic India vs. Pakistan final clash in the Asia Cup. Pakistan's dreams of this much-anticipated showdown were ruthlessly shattered when Sri Lanka emerged victorious, sealing their spot in the Asia Cup 2023 final. The virtual semi-final unfolded with an air of tension, but Charith Asalanka's composed and nerve-wracking performance in the critical moments led Sri Lanka to an unexpected victory, dashing Pakistan's hopes.
In the midst of this disappointment, Shoaib Akhtar found a silver lining in Pakistan's new pace sensation, Zaman Khan. Zaman was thrust into the limelight, called upon to fill the void left by the sidelined Haris Rauf and Naseem Shah. Despite Zaman not managing to claim a wicket and conceding 39 runs in his six overs, Shoaib Akhtar couldn't help but be impressed by his remarkable performance. Zaman Khan, with his impeccable bowling record in the Pakistan Super League, emerged as a beacon of hope amidst Pakistan's challenging circumstances.
As the dust settled on Pakistan's missed opportunity, Shoaib Akhtar contended that Pakistan had earned the right to secure a spot in the Asia Cup final. However, he candidly admitted that Sri Lanka had outshone Pakistan on that particular day, with their performance reflecting their superior skills and form. The dream of witnessing a historic India-Pakistan final in the Asia Cup remained just that - a dream.
Also Read: Asia Cup 2023: Bumrah, Siraj and Pandya are likely to be rested, while Iyer's availability remains uncertain
Shoaib Akhtar's heartbreak over this "embarrassing" loss was palpable, and he issued a rallying cry to Babar Azam's men. He called upon the Pakistani team to regroup, learn from their mistakes, and prepare diligently for the upcoming ODI World Cup, which was just around the corner. The urgency of improved captaincy was emphasised, underlining the need for a united front and a strategic approach to achieve success in the imminent cricketing challenges.
In summary, Shoaib Akhtar's disappointment was not just about a lost opportunity for an India-Pakistan final; it was a reflection on Pakistan's performance and a call to action for the future.
Also Read: Ravichandran Ashwin's thought-provoking perspective on ODI powerplay rules
Last Updated Sep 15, 2023, 11:08 AM IST