Asia Cup 2023: Rain threat looms over India vs Pakistan clash; Toss might get delayed
The much-anticipated India vs Pakistan showdown in the Asia Cup 2023 is under the cloud of persistent rain, leading to a delay in the coin toss.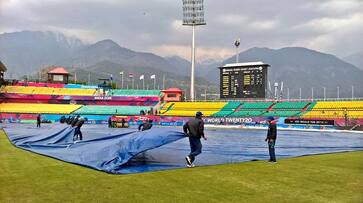 Weather reports indicate an 80 percent probability of rain, casting uncertainty over the eagerly awaited India vs Pakistan match. In the scenic Kandy region, where continuous rain is expected on Saturday, there's a chance that the thrilling India-Pakistan clash might face an anticlimactic twist. Despite the weather concerns, the anticipated capacity crowd for the India-Pakistan match has plenty of reasons to celebrate and extend their warm hospitality.
The Indian team, still fine-tuning their lineup, relies on their formidable trio of captain Rohit, the unmatched Kohli, and the rising star Shubman Gill to confront Pakistan's Shaheen, Rauf, and the determined Naseem Shah. Overcast conditions and a slight chill in the air could work to the advantage of Shaheen and Naseem as they seek to disrupt India's top order during the initial Powerplay.
On the eve of the match, Pakistan announced their decision to maintain the same playing XI against India. This choice follows their dominant performance against Nepal, where they secured a commanding 238-run victory in their opening game on Wednesday. Pakistan amassed a total of 342 for 6, led by captain Babar Azam (151) and Iftikhar Ahmed (109 not out). Nepal, in response, struggled and was bowled out for just 104 runs, with Shadab Khan claiming four wickets.
Also Read: Asia Cup 2023: Virat Kohli vs Babar Azam; A battle that could shape India vs Pakistan encounter
Last Updated Sep 2, 2023, 2:34 PM IST