Asia Cup 2023, India vs Pakistan: What happens if the reserve day also gets washed out due to rain?
The high-stakes Asia Cup cricket clash between India and Pakistan in Colombo was marred by rain, causing an interruption in the match. India's openers, Rohit Sharma and Shubman Gill, had set a solid foundation before the weather intervened.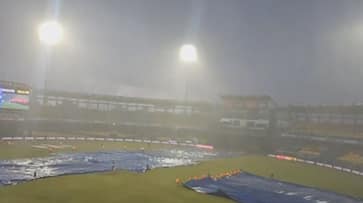 In the Asia Cup showdown between India and Pakistan, rain once again disrupted proceedings in Colombo on Sunday. Pakistan chose to bowl, but India's openers, Rohit Sharma and Shubman Gill, made a significant impact during the initial powerplay. Rohit contributed 56 runs, while Gill scored 58 before their dismissals in quick succession. At the rain interruption, India stood at 147/2 in 24.1 overs. KL Rahul, stepping in for Shreyas Iyer, was unbeaten at 17, with Virat Kohli on 8. In the event that the weather doesn't permit further play on Sunday, the match will resume from the point of suspension on Monday. The Asian Cricket Council (ACC) has officially scheduled a reserve day for the India vs. Pakistan Super 4 encounter in the Asia Cup 2023.
The ACC stated, "A reserve day has been incorporated for the Asia Cup 2023 Super 4's match between Pakistan and India scheduled to take place on 10th September 2023 at R. Premadasa International Cricket Stadium in Colombo." They also noted, "If adverse weather suspends play during the Pakistan vs India game, the match will continue on 11th September 2023 from the point it was suspended."
It's worth mentioning that no reserve days have been allocated for the other Super 4 matches in Sri Lanka. This exemption has been made considering the immense revenue generated by the India vs. Pakistan clash, which is a significant draw for broadcasters. Initial weather forecasts had hinted at the possibility of rain affecting both the match day and the reserve day, with over 90 percent cloud cover and potential thunderstorms.
What happens if the reserve day also gets washed out?
If the reserve day also gets washed out then both the teams will share a point each.
Also Read: Asia Cup 2023, IND vs PAK: Shubham Gill gives 'world class' verdict on Babar Azam; talks about pacers' threat
Last Updated Sep 10, 2023, 7:25 PM IST