Argentina women's cricket team sets new records; Scores 427 runs in 20 overs and 52 runs in a single over
In a phenomenal T20I match, Argentina's women's cricket team achieved an astonishing victory, breaking multiple records in their triumph over Chile. With a historic total of 427/1 in just 20 overs, featuring a remarkable 350-run partnership by Lucia Taylor and Albertina Galan.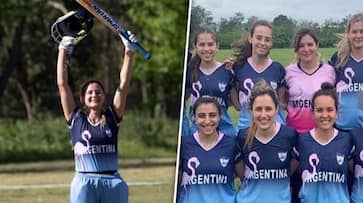 Argentina's women's cricket team shattered numerous records during a sensational victory over Chile in the inaugural T20I match. In an astounding display of prowess, Argentina achieved an unprecedented total of 427/1 in just 20 overs, highlighted by a remarkable 350-run partnership between openers Lucia Taylor (169) and Albertina Galan (145). Subsequently, Argentina bowled out Chile for a mere 63 runs, securing an outstanding victory by a margin of 364 runs. This match etched its place in cricket history as the highest total ever scored by a team in T20I cricket.
Argentina surpassed the previous record held by Bahrain's women's team, who scored 318/1 in 20 overs against Saudi Arabia in March 2022. Uganda stands as the third team on this illustrious list with a total of 314/1 against Mali in June 2019.
Adding to the monumental achievements, this match also set a new record for the most runs scored in a single over. Chile's Florencia Martinez conceded an astonishing 52 runs in just one over, a feat that included 17 no-balls.
Highlights from this historic match include the highest individual score of 169 by Lucia, the first-ever triple-century partnership in T20I cricket at 350 runs (achieved by Lucia and Albertina), and the quickest individual century in terms of team overs, accomplished in just 10.2 overs by Lucia. Additionally, the match saw records for the most no-balls in an innings (64) and most extras in an innings (73), along with the most runs conceded in one over (52 runs by Florencia Martinez) and most runs conceded in an innings (92 by Constanza Oyarce).
In terms of individual performances, Jessica Miranda was the only wicket-taker for Chile, conceding 64 runs in her four-over spell and later emerging as the highest run-scorer for her side with 27 runs.
For Argentina, Constanza Sosa, Alison Stocks, Mariana Martinez, Albertina Galan, and Julieta Cullen each scalped one wicket. The two teams are set to face off again in the second T20I match of the three-match series on Sunday.
Last Updated Oct 15, 2023, 4:23 PM IST