Coronavirus lockdown: With folded hands, spin legend Anil Kumble requests people to stay home
Anil Kumble posted a video on his Twitter account and requested people to stay home amid the 21-day coronavirus lockdown in India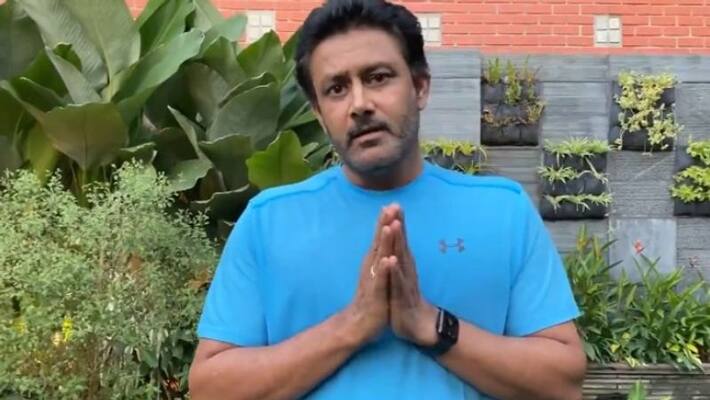 Bengaluru: Former India captain Anil Kumble has urged everyone to stay at home and follow the guidelines issued by the government to fight against the deadly novel coronavirus (COVID-19).
India is under a 21-day lockdown due to coronavirus. Despite this, there have been instances where people have ventured out of their homes. Prime Minister Narendra Modi had requested all to stay indoors for three weeks so that the country combats the virus.
Watch: Virat Kohli gets 'beautiful haircut' from Anushka Sharma
Several cricketers including national team captain Virat Kohli have been active on social media and requesting the citizens to stay at home.
On Friday (March 27), India's highest wicket-taker in both Tests and ODIs, Kumble shared a video message on his Twitter page.
Also read: Virat Kohli disppointed with people during lockdown
Spin legend Kumble spoke in Kannada and he requested with folded hands, asking everyone to stay at home.
The former India coach said in the one minute and 15-second video, "Coronavirus is not restricted to only India, as you all know it has spread to all countries around the world. Social distancing is the only thing which will save us from coronavirus. For our own safety, let us all listen to doctors, nurses, police personnel, government officials. If you have to support them, please stay at home.
"What our government has given directives during the 21-day lockdown, please follow without fail. I request you all with folded hands, please stay at home. Children would want to go out and play during this period, please don't send them. Please keep them at home and you too stay indoors. Let us all stay home, stay healthy and stay safe."
Earlier, Kumble had tweeted that he was spending time at his Bengaluru home to go through his collection of photographs. He tweeted a picture of sloth bear and wrote, "Staying at home and going through my archives had some sweet outcomes. Sloth bear snapped at #DarojiBearSanctuary #Karnataka  #WildlifeWednesday @SonyAlpha #sonyalphaindia (sic)."
Last Updated Mar 28, 2020, 2:21 PM IST