Coronavirus: David Warner asks Virat Kohli to shave off his head
David Warner has asked Virat Kohli to shave off his head. The Australian opener has shaved off his head and he wants Kohli to follow him. Here is the reason for that. Kohli is currently staying at home as India is under a 21-day lockdown due to coronavirus (COVID-19)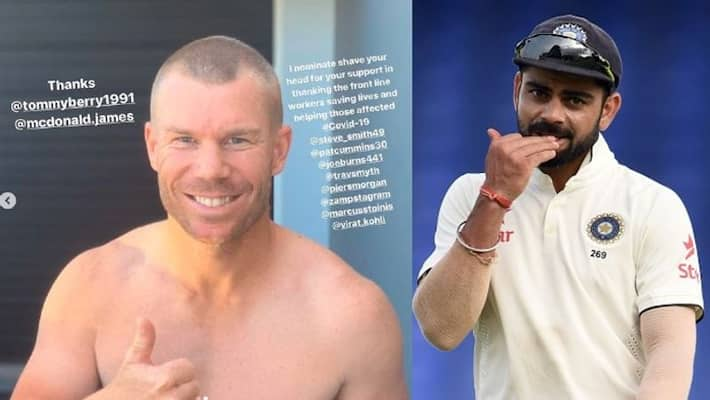 Bengaluru: Australia's opening batsman David Warner has asked India captain Virat Kohli to shave off his head amid the 21-day lockdown due to the novel coronavirus (COVID-19) pandemic.
On Tuesday (March 31), Warner took to his Instagram account to post a video where he is seen shaving off his head. He was nominated by a friend to do so. Now, the left-handed batsman has nominated Kohli, Steve Smith, Pat Cummins, Joe Burns, Marcus Stoinis, Adam Zampa, and others.
Also read: List of cricketers who have donated to PM CARES Fund
"Been nominated to shave my head in support of those working on the frontline #Covid-19 here is a time lapse. I think my debut was the last time I recall I've done this. Like it or not??," Warner wrote.
"I nominate shave your head for support in thanking the front line workers saving lives and helping those affected (by) #Covid-19)," Warner added with a picture of himself with a clean shaven head.
Last Updated Mar 31, 2020, 1:44 PM IST