BCCI annual awards 2018-19: Here is full list of award winners, cash prize details
The BCCI annual awards were presented on January 12. Here is the full list of award winners. Jasprit Bumrah bagged the top honour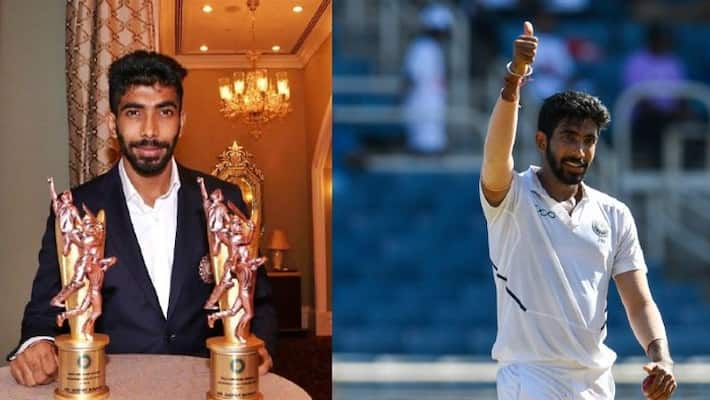 Mumbai: Jasprit Bumrah received the prestigious Polly Umrigar Award for the best international cricketer (2018-19) at the BCCI Annual Awards (Naman) in Mumbai on Sunday (January 12).
"Grateful and honoured to be taking these two awards home tonight," said Bumrah, who also bagged Dilip Sardesai award for being the highest Test wicket-taker in 2018-19 season. He took 34 wickets in six Tests.
Also read: Ricky Ponting predicts India-Australia series winner, scoreline
The world number one ODI bowler made his Test debut during India's tour of South Africa in January 2018 and hasn't looked back since. He picked up a five-wicket haul in South Africa, England, Australia and the West Indies becoming the first and only Asian bowler to achieve the feat. He played a stellar role in the historic 2-1 Test series win in Australia that helped India retain the Border Gavaskar Trophy.
While Bumrah got the biggest prize in the men's category, Poonam Yadav claimed the top prize in women's category. She was awarded the best international cricketer (women). The award will be another feather in the leg spinner's cap who recently received the Arjuna Award.
Former India captains Krishnamachari Srikkanth and Anjum Chopra were presented with Col CK Nayudu Lifetime Achievement Award and the BCCI Lifetime Achievement Award for Women respectively. 
A member of the 1983 World Cup-winning team, Srikkanth took on the fearsome West Indies fast bowlers and scored an attacking 38, the top individual score in the low-scoring final at the Lord's. He also captained India and post-retirement served as the chief selector and it was during his tenure that the 2011 World Cup squad was picked. 
Anjum is one of the finest batswomen and the first Indian to play 100 WODIs. In a career spanning 17 years, Anjum represented India in four 50-over World Cups and two T20 World Cup (played in 1).
Full list of BCCI award winners
Sr. No.
AWARD
WINNER
 
PERFORMANCE
1
COL. C.K. NAYUDU LIFETIME ACHIEVEMENT AWARD
Krishnamachari Srikkanth
Citation, trophy and cheque for Rs 25 lakh
In 43 Test Scored 2062 Runs @ 29.88 With 2 Centuries And 12 Half Centuries, 123 HS                                   
In 146 ODI Scored 4091 Runs @ 29.01 With 4 Centuries AndD 27 Half Centuries, HS 123
2
BCCI LIFE TIME ACHIEVEMENT AWARD FOR WOMEN
Anjum Chopra
Citation, trophy and cheque for Rs 25 lakh
In 12 Test Scored 548 Runs @ 30.44 WithH 4 Half Centuries, 98 HS             
In  127 ODI  2856 Runs Scored @ 31.38 With 1 Century And 18 Half Centuries, 100 HS                                                     
In 18 T20 241 Runs Scored @17.21, 37* HS
3
BCCI SPECIAL AWARD
Dilip Doshi
Citation, trophy and cheque for Rs 15 lakh each
In 33 Test  129 Runs Scored and 114 Wickets taken @ 30.71, BB 6 FOR 102                                                    In 15 ODI 9 Runs Scored And 22 Wickets taken @ 23.81,BB 4 FOR 30
4
DILIP SARDESAI AWARD - HIGHEST RUN GETTER IN TEST CRICKET- 2018-19
Cheteshwar Pujara
Trophy and cheque for Rs 2 lakh
In 8 matches 677 runs @ 52.07 with 3 centuries and 2 half centuries, HS 193
5
DILIP SARDESAI AWARD - HIGHEST WICKETS IN TEST CRICKET- 2018-19
Jasprit Bumrah
Trophy and cheque for Rs 2 lakh
In 6 matches 34 wkts @ 14.02 with 3 5wkt haul, 6 for 27 being the BB
6
 HIGHEST RUN GETTER IN ONE DAY INTERNATIONALS -2018-19- WOMEN 
Smriti Mandhana
Trophy and cheque for Rs 2 lakh
In 6 matches 349 runs @ 69.80 with 3 half Centuries and 1 Century, HS 105
7
 HIGHEST WICKETS IN ONE DAY INTERNATIONALS - 2018-19 - WOMEN 
Jhulan Goswami
Trophy and cheque for Rs 2 lakh
In 6 matches 11 wkts @ 16.36 with 1 4wkt haul.
8
POLLY UMRIGAR AWARD BEST INTERNATIONAL CRICKETER- MEN
Jasprit Bumrah
Citation, trophy and cheque for Rs 15 lakh each
Test vs Aus & WI 34 wickets from 6 matches, ODI: 31 wickets from 17 matches, ITT 8 wickets from 7 matches (1 October 2018 to 30 September 2019)
9
 BEST INTERNATIONAL CRICKETER - WOMEN
Poonam Yadav
Citation, trophy and cheque for Rs 15 lakh each
WODI: 14 wickets from 8 matches WITT: 20 wickets from 15 matches,        1 October 2018 to 30 September 2019
10
BEST INTERNATIONAL DEBUT - MEN
Mayank Agarwal
Trophy and cheque for Rs 2 lakh
In 9 Test matches scored 872 runs @ 67.07 with 3 Centuries and 3 Half Centuries, 243 HS 
11
BEST INTERNATIONAL DEBUT- WOMEN
Shafali Verma 
Trophy and cheque for Rs 2 lakh
In 9 T20 matches scored 222 runs @ 27.75 with 2 half centuries, HS 73
12
LALA AMARNATH AWARD FOR THE BEST ALL-ROUNDER IN THE RANJI TROPHY, 2018-19
Shivam Dube of Mumbai C A
Trophy and cheque for Rs 5 lakh
632 runs @ 52.67 in 8 matches with 2 centuries and 3 half centuries. 23 wkts @ 23.21 with 7/53 as BB
13
LALA AMARNATH AWARD FOR THE BEST ALL-ROUNDER IN DOMESTIC LIMITED-OVERS COMPETITIONS, 2018-19
Nitish Rana of DDCA
Trophy and cheque for Rs 5 lakh
443 runs@49.22 in 10 matches with 1 century and 3 half centuries. 8 wkts @ 27.50 with 2/9 as BB
14
MADHAVRAO SCINDIA AWARD – HIGHEST RUN GETTER IN THE RANJI TROPHY IN 2018-19
Milind Kumar of Sikkim C A 
Trophy and cheque for Rs 2.5 lakh
1331 runs @ 121 in 8 matches with 6 centuries in cluding 2 double centuries and 4 half centuries  .
15
MADHAVRAO SCINDIA AWARD – HIGHEST WICKET-TAKER IN THE RANJI TROPHY IN 2018-19
Ashutosh Aman of Bihar C A 
Trophy and cheque for Rs 2.5 lakh
68 wkts @ 1.9 with 5 ten wkts in a match and 9 five wkts in an innings in  7 matches
16
M.A. CHIDAMBARAM TROPHY – HIGHEST RUN GETTER IN (U23) COL. C K NAYUDU TROPHY IN 2018-19
Manan Hingrajia of Gujarat C A
Trophy and cheque for Rs 1.50 Lakh
872runs @ 67.08 in 10 Matches with 3 centuries and 3 half centuries.
17
M.A. CHIDAMBARAM TROPHY – HIGHEST WICKET-TAKER IN (U23) COL. C K NAYUDU TROPHY IN 2018-19
Sidak Singh of Cricket Association of Pondicherry  
Trophy and cheque for Rs 1.50 Lakh
63 wickets @ 2.5 with 1 ten wkts and 4 five wkts. in an innings  in 8 matches.                                        
18
M.A. CHIDAMBARAM TROPHY – HIGHEST RUN GETTER IN (U19) COOCH BEHAR TROPHY IN 2018-19
Vathsal Govind of Kerala C A 
Trophy and cheque for Rs 1.50 Lakh
1235 runs @ 123.5 in 8 matches with 5 centuries including 1 triple century, and 6 half centuries.
19
M.A. CHIDAMBARAM TROPHY – HIGHEST WICKET-TAKER IN (U19) COOCH BEHAR TROPHY IN 2018-19
Apurva Anand of Bihar Cricket Association
Trophy and cheque for Rs 1.50 Lakh
62 wickets @ 10.54 with 8 five wkts. in an innings in 8 matches 
20
JAGMOHAN DALMIYA TROPHY – HIGHEST RUN GETTER IN (U16) VIJAY MERCHANT TROPHY IN 2018-19
Aryan Hooda of Jharkhand State C A 
Trophy and cheque for Rs 1.50 Lakh
903 runs @ 75.25 in 9 matches with 4 centuries and 1 half century.
21
JAGMOHAN DALMIYA TROPHY – HIGHEST WICKET-TAKER IN (U16) VIJAY MERCHANT TROPHY IN 2018-19
Abhishek Yadav of Jharkhand State C A 
Trophy and cheque for Rs 1.50 Lakh
46 wickets @ 1.8 with 4 five wkts. in an innings  in 9 matches.
22
JAGMOHAN DALMIYA TROPHY – BEST WOMAN CRICKETER (SR DOMESTIC) OF 2018-19 (SR WOMEN ONE DAY)
Deepti Sharma of Cricket Association of Bengal
Trophy and cheque for Rs 1.50 Lakh
487 runs @ 69.57 in 11 matches with 2 centuries and 2 half century. (SWOD)
23
JAGMOHAN DALMIYA TROPHY – BEST WOMAN CRICKETER (JR DOMESTIC) OF 2018-19
Shafali Verma of Haryana C A 
Trophy and cheque for Rs 1.50 Lakh
Overall she scored 1923 runs @ 46.90 in 46 matches with 7 centuries and 5 half century including One Day and T20 (She played Senior, U23, U19)
24
BEST UMPIRE IN DOMESTIC CRICKET IN 2018-19
Virender Sharma
Trophy and cheque for Rs 1.50 Lakh
 
25
BEST PERFORMANCE IN BCCI DOMESTIC TOURNAMENTS OF 2018-19
Vidarbha C A 
MEMENTO
Winner - Ranji Trophy, Men U23 One Day, Vinoo Mankad Trophy, Irani Cup, Runner Up - Cooch Behar Trophy
Last Updated Jan 13, 2020, 11:51 AM IST