AI-generated 1950s-inspired look of Kohli, Dhoni, Gill and more takes social media by storm - WATCH
The article highlights the impact of artificial intelligence on generating creative and nostalgic images, including AI-reimagined Indian cricketers from the 1950s.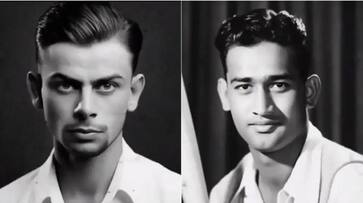 Over the recent months, artificial intelligence (AI) has made a significant impact across various domains. AI tools such as Midjourney have gained prominence for their ability to generate striking images, many of which have circulated widely on social media platforms. Now, an artist has harnessed the power of AI to reimagine popular Indian cricketers from the 1950s, creating a collection of nostalgic photos that has taken social media by storm. This captivating collection has gone viral on Reddit, specifically on the 'IndianArtAI' subreddit, where it garnered significant attention and received nearly 2,500 upvotes. The video was originally posted on @kohliandmahi Instagram handle and has got over 260,000 likes so far.
The video showcasing these AI-generated transformations begins with a black-and-white photograph of Virat Kohli, portraying him with a clean look, a French beard, and slicked-back hair. The transformation then continues with Rohit Sharma donning a coat, followed by AI-reimagined versions of MS Dhoni and Hardik Pandya. The creative endeavor also includes Shubhman Gill, Jasprit Bumrah, KL Rahul, and Ravindra Jadeja, each sporting unconventional and unique looks from the 1950s.
Reddit users were thoroughly impressed by the creativity and ingenuity displayed in these AI-generated images. They expressed their astonishment and appreciation for the unique transformations.
One user remarked, "Is the third one MSD? By the way, KL Rahul looked the best among them." Another user commented on the timeless charm of the retro aesthetics, stating, "Their retro looks so classy."
A third user humorously observed, "Everyone had awesome jawlines in the 50s," while another comment highlighted the continuous advancement of AI, stating, "AI keeps exceeding my expectations."
Last Updated Oct 2, 2023, 9:41 PM IST