Afghanistan vs Australia: Glenn Maxwell 'proud' of dazzling double ton; internet dubs him as 'superhuman'
In a three-wicket victory over Afghanistan on Tuesday, Glenn Maxwell, who was batting on one leg, handled his bat like a butcher's blade and delivered an incredible double century to propel Australia into another ODI World Cup semifinal.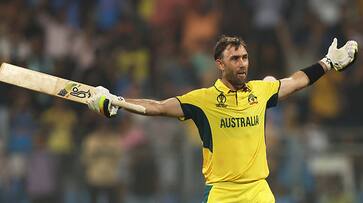 Glenn Maxwell, in a state of exhaustion, described Tuesday night as "his own" after delivering a superhuman effort that even his captain, Pat Cummins, hailed as the "greatest ever" ODI knock. Cummins closely witnessed Maxwell's extraordinary 201-run performance, despite battling painful cramps, which left Afghanistan stunned. Thanks to 'Mad Max' Australia beat Afghanistan by three wickets at Mumbai's Wankhede Stadium to secure a spot in the ODI World Cup 2023 semifinals.
At the post-match presentation, Maxwell expressed pride in his performance, despite a couple of chances the Afghans missed when Australia was in a precarious position. He said, "It would have been nice if it was a chanceless knock, but I had my chances, to make the most of it tonight was something I can be proud of."
Also read: 'Maxwell does an Undertaker': Meme fest explodes after 'one-legged' Glenn fires Australia to WC semifinals
For Cummins, who watched the world record partnership of 202 runs unfold, it was an unforgettable moment. He exclaimed, "Ridiculous. Don't know how to describe it. Great win! It has got to be the greatest thing that has ever happened. One of those days people will say yeah, I was at the stadium for this game."
Maxwell expressed frustration with critics who had prematurely written off the Australian team after two consecutive losses to India and South Africa. He said, "Amazing, after the first two games, people were quick to write us off. The belief was always there (as a team), after today, it would have gone a bit higher."
Maxwell attributed his cramps to the extreme heat and his lack of pre-game physical preparation. He stated, "It was hot while fielding today, I haven't done a lot of exercise in the heat, it got a hold on me today. I wanted to stay back and get some movement (on my legs)."
When Australia found themselves at a dire 92 for 7, Maxwell emphasized the importance of sticking to the team's batting plans and maintaining a positive mindset. He said, "Not too much (plans), just stick to the batting plans as much as possible, for me, still be positive, still look to play my shots."
Also read: AUS vs AFG: Maxwell's 201 better than Kapil Dev's 175? Debate over greatest World Cup innings erupts
Maxwell's DRS review, which saved him from an lbw decision, also encouraged him to go on the offensive. He explained, "That lbw. It was going just above (the stumps), probably that made me be more proactive. A hint of swing and nip (off the surface), as it happens here under lights, they bowled beautifully to exploit that."
Cummins praised Maxwell's composure and planning, saying, "He (Maxwell) was great, he was calm. He always had a plan. Even from 200 behind to be able to win the game that way, it was really special."
Following this effort by Maxwell, the internet went berserk and called the Australian all-rounder a 'superhuman'. Here's a look at some of the reactions on X:
Last Updated Nov 8, 2023, 9:18 AM IST