Namma Bengaluru Foundation donates groceries to vulnerable amid coronavirus lockdown
Namma Bengaluru Foundation reached out to the poor and needy families in various slums in Bengaluru amid the coronavirus lockdown.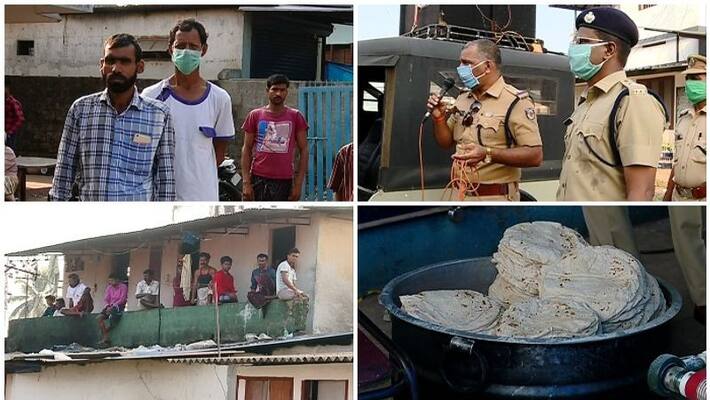 Bengaluru: Coronavirus lockdown has affected the lives of homeless, unorganized sector workers like domestic helps, ragpickers, rickshaw drivers, handcart pullers, single parent mothers, construction workers, migrant workers and the urban poor the most. They are struggling hard to cope with their daily food demands.  
Namma Bengaluru Foundation (NBF) has extended a helping hand to support these needy. The foundation reached out to 700 rag pickers in Hebbal and 150 construction workers at Veerannapalya with food packets twice a day. They have assured the needy of delivering food to them daily till the lockdown ends.
Ration kits with which poor can survive for two weeks were also delivered to 385 people in Amar Jyothi slum in Domlur and Vyalikaval slum near Chowdaiah memorial hall. 
Food items were distributed among 3550 unorganized sector workers in Sanyasikunte 1 and Sanyasi Kunte 2 slums in Hanumantha Nagar, Lidkar colony and Basava Lingappa colony in Nagawara, AK colony and Ragpickers on TC Palya Main road at KR Puram. Thus, a total of 4785 poor were reached out to. 
Rajya Sabha MP Rajeev Chandrasekhar donated Rs 2 crore from his MPLAD funds for emergency purchases of essential equipment including ventilator facilities and masks, which were required for a 1700-bed COVID-19 separate care unit at Victoria Hospital. 
Apart from this, he is also helping NBF in his individual capacity to reach out to the needy.
Thousands more are in need of food and the foundation has more than 7000 pending requests from the vulnerable. The foundation requests donors to come forward and help them reach more people and communities.
You can support this cause in 3 ways.
1. By donating cooked food packets until the lockdown period.
2.  By donating grocery kit (Rice 10 Kgs, Oil – 1 ltr, Dal – 1 kg, Salt – 1kg, Atta – 2 kg & Sugar – 1 kg) for each family (4-5 members in each family). This stock will last till lockdown period. Each kit will cost approximately Rs. 800/- (cost per family).
3. You can donate funds. Donations are exempted from tax under 80G. Please donate online (RTGS/NEFT) to the following account of the NBF trust:
Beneficiary account name: Namma Bengaluru Foundation
Beneficiary account no: 520101253850351
Branch IFS code: CORP0000341
Bank: Corporation Bank
Type of account: Saving Bank Account
Branch : MG Road
Centre/City: Bengaluru
Last Updated Mar 30, 2020, 5:22 PM IST