Illegal liquor sellers find a new way to run their business during coronavirus lockdown

India is now reeling under the 21-day coronavirus lockdown. Only essential services are functional. In this situation, alcoholics in West Bengal's Uluberia area have started to consume homeopathic medicines. Why are they hooked on to this? Read on...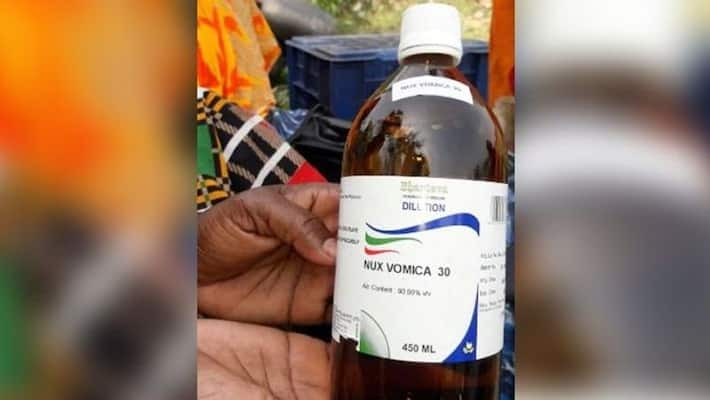 West Bengal: The labels on the glass bottle say: Homeopathic drug. The 21-day lockdown imposed to curb the spread of coronavirus may say no to most services including liquor shops, but essential services are on. And who would say no to homeopathic medicines? Thus, alcoholics and illegal liquor sellers found a new way out. 
Also read: COVID-19-affected patients in India are in age group 21-40
Finally, the wives of these alcoholics discovered the truth. In the Uluberia area of Howrah district in West Bengal, illegal liquor sellers sold alcohol under the homeopathic labels. That was not all. They even served these bottles at customers' doorsteps. The business succeeded in avoiding police surveillance. Foreign liquors and even country liquors were being sold at prices that were three or four times the original cost.
Alcoholics were affected when the lockdown was imposed. They had no access to liquor and they had to be confined to their homes. The demand for liquor began to grow immensely. A few days ago, even Bollywood actor Rishi Kapoor demanded the government to open liquor stores during lockdown. Therefore, no matter how high the price, there is no shortage of buyers.
However, Kalyani Palui, a housewife of Rajapur area of Uluberia unmasked this illegal liquor operation. Despite being a housewife, everyone in the area knew her as 'illegal liquor business jihadi'. Uluberia is an industrial area. Until a few years ago, housewives thrashed by their alcoholic husbands was a daily occurrence. But, the housewives of the area, under the leadership of Kalyani Palui, fought and put an end to that trend. This time, too, they have foiled the illegal liquor business too.
The question is, what is the police or the local administration doing? Whenever they received reports of illegal liquor business, the officials of the excise department have gone and seized them. But, they could not arrest illegal liquor traffickers due to fear of community transmission of deadly coronavirus. "It's not possible to know who is infected with coronavirus, and who is not. Now if the community transmission starts, while catching illegal liquor traders, it will snowball into a bigger disaster," said Amit Kanjilal, a spokesperson for the excise office. So, awareness campaign and seizing illegal liquor - these are the only steps, the police or the administration are able to exercise.
Last Updated Apr 7, 2020, 8:26 PM IST