Did you know, you have been eating 'illegal' Tirupati laddus?
Food Safety And Standard Authority of India (FSSAI) has ordered for the inspection of the Tirupati kitchen.
FSSAI also has asked the temple board to get a food license.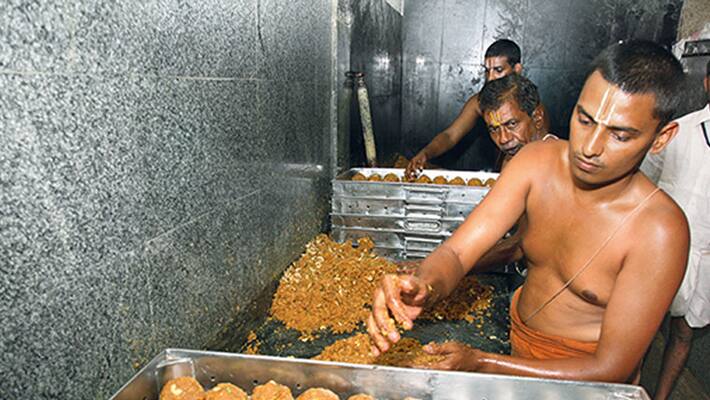 Yes, you read that right.

All thanks to the Food Safety And Standard Authority of India (FSSAI), which now has issued a direction to the Central Licensing Authority to carry out an inspection at the Tirumala Tirupati Devasthanams kitchen. The FSSAI also has ordered the TTD to even apply for a food license as per the rules. 

The FSSAI issued the direction on March 23 to Central Licensing Authority, Chennai branch to carry out an inspection of the TTD premises and directed the authority concerned to obtain food license by stating that laddu is a food product and anyone manufacturing it, has to get a license. 

Dr Kannan Deputy Director, Central Licensing Authority, Chennai branch told Asianet Newsable that, they have received the direction and have already communicated it to the TTD authorities to make provisions for the authorities to carry out inspection. 

Last year, T Narasimha Murthy, an RTI activist filed an application before the chairperson of FSSAI New Delhi after he found lapses in FSSAI rules, which mainly apply on hotels, shops and small bakeries.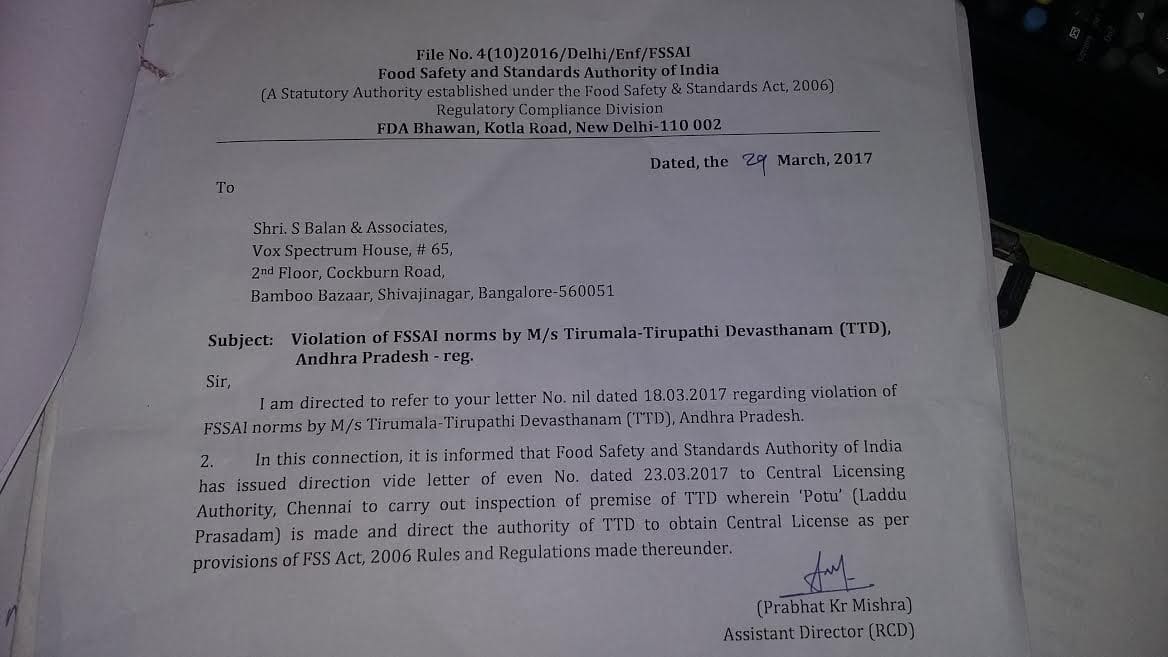 In his application, he had raised concerns about the safety of humans consuming  'prasadam' and said there were serious lapses in food safety at 'Potu' where the 'sacred Laddus' are prepared. 
"Based on the application, the Chairperson sent letters to  TTD Executive Officer, Sambasavia Rao, IAS to give an explanation.
However, Rao failed to give a convincing reply and also prevented the Joint Food Controller from inspecting the Potu, saying that it is an auspicious place and outsiders cannot be allowed,"   Said T Narasimha Murthy, RTI activist.
He also stated that Rs 8 lakh, laddus are prepared daily, and sale of Laddu at the temple fetches about Rs 250 crores annually.  If the money is involved in buying and giving of food, it is trade, and the TTD clearly fits into the Food Business Operators category and therefore must and should have a food licence.
The FSSAI regulations have clearly been violated by the TTD, and now they have been asked to comply.
"I also demand action against the authorities at TTD for preventing the food safety authorities in discharging their duty by saying they cannot enter earlier.
Under section 62 of the FSSAI Act, a person can be punished with fine of Rs 1 lakh and imprisonment of three months, and under section 63 of the same act, the fine amount is enhanced to Rs 5 lakh and one-year jail term," Murthy added.
 
Last Updated Mar 31, 2018, 7:03 PM IST