AP CM Nara Chandrababu and opposition leader YS Jagan are like cat and mouse opposing every issue
But for the first time, they shared a common interest
Their interest for Swamis, astrology, auspicious dates and vaastu
Andhra Pradesh Chief Minister Nara Chandrababu Naidu and opposition YSRCP (Yuvajana Sramika Rythu Congress Party) supremo YS Jaganmohan Reddy for the very first time have a common interest, an interest in Swamis, astrology, vaastu and auspicious dates.
Chandrababu, who didn't follow any beliefs in his previous two terms as CM seem to have taken a u-turn and is following them at every step of the way. He keeps looking for auspicious dates and times, vaastu and astrology for his every official and personal work.
The same thing is seen in YS Jagan in recent times. Jagan being a Christian thought that he wouldn't believe in such kind of beliefs. But recently he seems to have checked auspicious time for his padayatra to be started on October 27th. He also met Swamy Chinna Jeeyar at his ashram on Tuesday and took his blessings.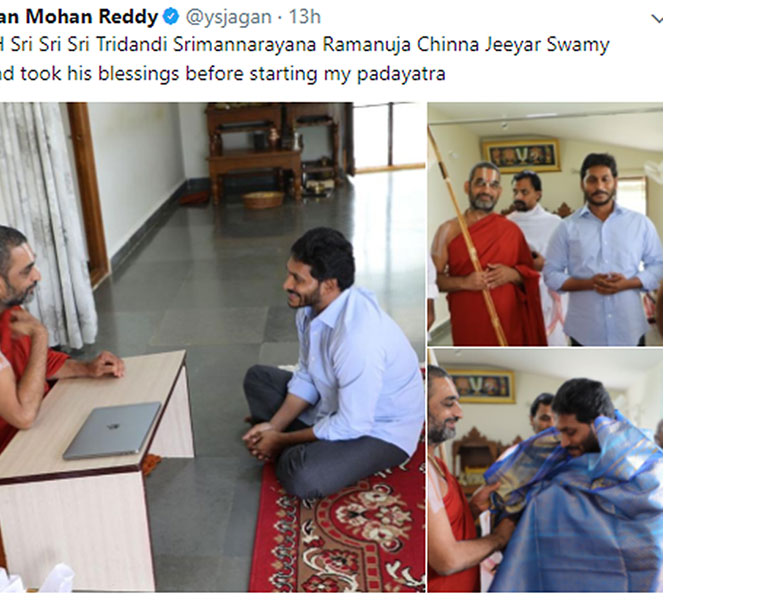 Jagan also planned a yagya for victory in the next election with Bhumana Karunakar Reddy. He also seemed to have postponed his padayatra on the suggestion of Sarada Peetadhipathi Swaroopanandendra Saraswathi.
So both leaders seem to have found a common ground finally, though it is regarding their beliefs.
Last Updated 31, Mar 2018, 6:32 PM IST