Agrigold cheques and parivar bonds not being registered by police
Police are not registering Agrigold cheques and parivar bonds of the victims
There are Rs 700 crores worth cheques and Rs 600 crores worth parivar bonds in the combined Telugu States
Prakasam district alone has bonds and cheques worth Rs 90 crores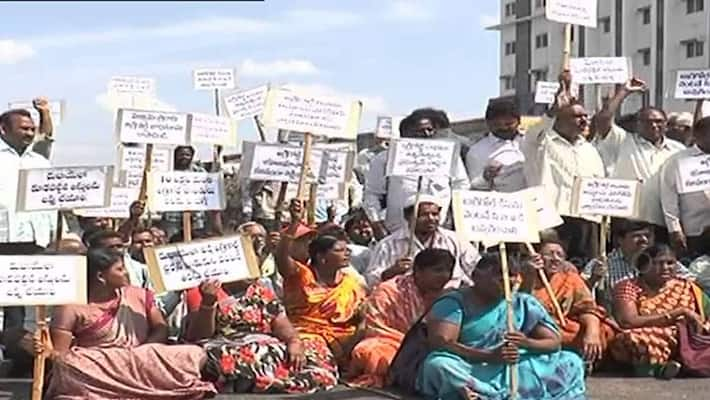 Agrigold victims face another roadblock as police refuse to register cheques and parivar bonds in its process of registration as ordered by the Government on October 12. AP state DGP and respective district SPs ordered the police to register all the details of the Agrigold victims.
But the police refuse to register the cheques given to Agrigold victims after the maturity of their bonds and also the parivar bonds issued in 2012. They announced that they would register only details of victims before 2014 December.
Agrigold gave post-dated cheques and parivar bonds to customers whose bonds matured in December 2014 and asked them to change these dates from January to March in 2015 with respective dates. Police refuse to listen to these victims in spite of showing them the proofs. Prakasam district alone has Rs 90 crores worth cheques from 6 thousand customers.
Two thousand customers have parivar bonds issued by Agrigold in 2012. Agrigold had introduced the scheme of depositing Rs 1 lakh with a 12 percent interest every month. Thousands of people deposited crores of rupees in this scheme.
According to information sources, there are 3 thousand depositors worth Rs 700 crores cheques and Rs 600 crores worth parivar bonds in both the Telugu states. Primarily East Godavari, Krishna Prakasam and Nellore customers have huge amount of cheques and bonds.
According to CID report there are 32,000 depositors to whom Agrigold has to pay Rs 6,350 crores. AVAS (Agrigold Victims Agitation Samithi) demands the government to enlist all the depositors' names online so that people can verify their names and amount. But police is not concerned with this and are not considering the cheques and bonds of the people.
Last Updated Mar 31, 2018, 6:38 PM IST