Wedding venue panic: Dramatic video reveals chaotic scene during Morocco earthquake - WATCH
A powerful earthquake of magnitude 6.8 strikes central Morocco, causing significant casualties and damage, with videos capturing the chaos, including an interrupted wedding in Marrakech.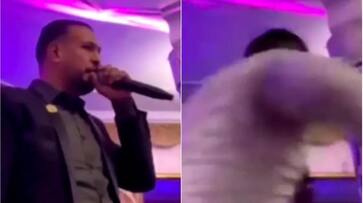 A powerful earthquake with a magnitude of 6.8 struck central Morocco on a Friday night, resulting in a devastating loss of over 2,000 lives and extensive damage to buildings. Numerous videos have emerged on social media, revealing the aftermath of the late-night earthquake. One particularly viral video captured the terrifying moment when earthquake tremors shook a wedding venue in Marrakech, prompting attendees to flee for their safety.
Also read: Morocco earthquake: Aerial footage reveals extent of damage; horrifying videos of aftermath go viral - WATCH
In the widely circulated video on social media, an orchestra was in the midst of a performance at the wedding when the earthquake struck. The musicians and the singer swiftly abandoned the stage, joining other wedding guests in rushing towards a doorway.
The caption accompanying one of the shared videos read, "When the powerful earthquake interrupted a wedding in Marrakech, Morocco."
Moroccans shared various other videos showing the destruction caused by the earthquake, with buildings reduced to rubble and dust. Additionally, parts of the iconic red walls surrounding the historic city of Marrakech, a UNESCO World Heritage site, were damaged.
The earthquake, with a magnitude of 6.8, struck 72 kilometers (45 miles) southwest of the popular tourist destination of Marrakesh. It devastated entire villages in the Atlas mountains. The earthquake tragically claimed the lives of at least 2,012 individuals and left 2,059 others injured, including 1,404 in critical condition, according to the latest reports from Morocco's interior ministry.
Also read: Morocco Earthquake: Death toll crosses 2000; Red Cross says response could require months, if not years
Rescue efforts are currently underway, with many individuals still believed to be trapped under the debris. This earthquake marks the deadliest in Morocco since the 1960 disaster in Agadir, which destroyed the city and claimed the lives of over 12,000 people.
Indian Prime Minister Narendra Modi expressed his condolences and offered assistance to Morocco during this challenging period. PM Modi conveyed his sympathies, stating, "Extremely pained by the loss of lives due to an earthquake in Morocco. In this tragic hour, my thoughts are with the people of Morocco. Condolences to those who have lost their loved ones. May the injured recover at the earliest. India is ready to offer all possible assistance to Morocco in this difficult time."
Last Updated Sep 11, 2023, 12:01 PM IST