Watch: World's biggest virtual wave over people's heads wows netizens amid coronavirus pandemic
World's largest 3D wave appeared in Seoul's Gangnam disrict. The video has mesmerised the netizens amid the coronavirus (COVID-19) pandemic. Watch the video here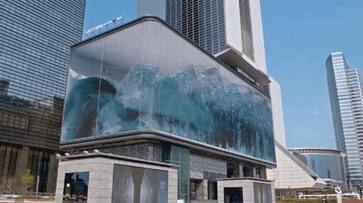 Seoul (South Korea): Netizens are stunned at the sheer brilliance of the creators as a virtual giant wave appeared over the heads of pedestrians, at a building in South Korea amid the coronavirus (COVID-19) pandemic.
With holidaying ruled out at the moment due to the spread of the virus around the world, internet users have been mesmerised by virtual beach experience, watching at the video posted by the creators, d'strict.
Also read: Indonesia zoo may feed deer to tiger amid coronavirus crisis
The giant 3D wave appears on a LED screen on SMTown COEX building at K-Pop Square in Seoul's Gangnam district. According to reports this is the world's largest 3D wave. It is title 'WAVE' and is an anamorphic illusion. The virtual giant wave crashes against the glass surface and appears for one minute every hour.
Also read: Lions cause traffic jam
"Our first case of IP licensing, 'WAVE' with anamorphic illusion has been successfully revealed on a magnificent DOOH of COEX K-POP SQUARE, the largest & high-definition outdoor advertising screen in South Korea at 80.1 metres (width) x 20.1 metres (height) (262 by 66 feet)," the company said with the video on YouTube.
"d'strict developed the world's largest anamorphic illusion using 1,600 square meters of 8K resolution screen. The media project is 20.1 meters tall and 80.9 meters wide. For the spectacular 3D effect to come to life, Samsung had to manufacture over 31,000 video panels," surfertoday website said.
"Our goal was to create an overwhelming experience using the beauty and dynamism of waves because they evoke feelings of comfort, which is much needed now," Jun Lee, business development director at d'strict, told SurferToday.
"We have produced a lot of art contents other than advertisements on public media LED screens of various sizes and shapes in office lobbies, shopping malls, hotels, and theme parks," Lee added.
On the company's website, it is stated, "d'strict is a design company that designs innovative space-based user experiences (UX) through content creation using digital media technology. d'strict, which has changed its flagship business in response to changes in various digital media technologies since its establishment in 2004, has launched a world's first digital theme park, "LIVE PARK" in 2012, and has a new concept of entertainment based on content (IP) on a specific theme. We are carrying out the "Digital Theme Park" business that realises space and the 'Digital eXperience Design' business that provides innovative spatial experiences for HIGH-END real estate and brands ."
Last Updated May 23, 2020, 2:17 PM IST