Lions cause traffic jam during tourists' safari ride in Africa
A bunch of tourists were left in an utter state of bewilderment after three lions induced a site visitor jam during their safari experience in Africa.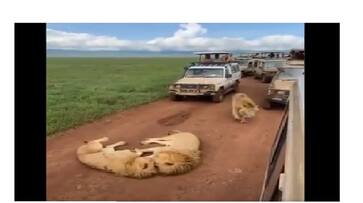 Three lions created a traffic jam during a safari ride in Africa. Susanta Nanda of the Indian Forest Service shared a 15-second video on Monday where the lions can be seen blocking their path.
In the video, two lions relaxed on the path as many jeeps lined up. The jeeps were unable to proceed because of the 'traffic jam' cause by the lions
While people waited in the hope that the lions would move out of the way, another lion walked to the spot where two others had been in recline and joined them in their siesta on the trail.
Netizens enjoyed the video which has been viewed over 25,000 times so far and has also garnered over 800 likes.
Last Updated May 19, 2020, 8:14 PM IST