Musharraf, the architect of Kargil War, leaves behind a disputed legacy: Strategic affairs experts
Pakistan's former military ruler General Pervez Musharraf (retd), the architect of the Kargil War in 1999, died on Sunday in Dubai after battling an incurable disease.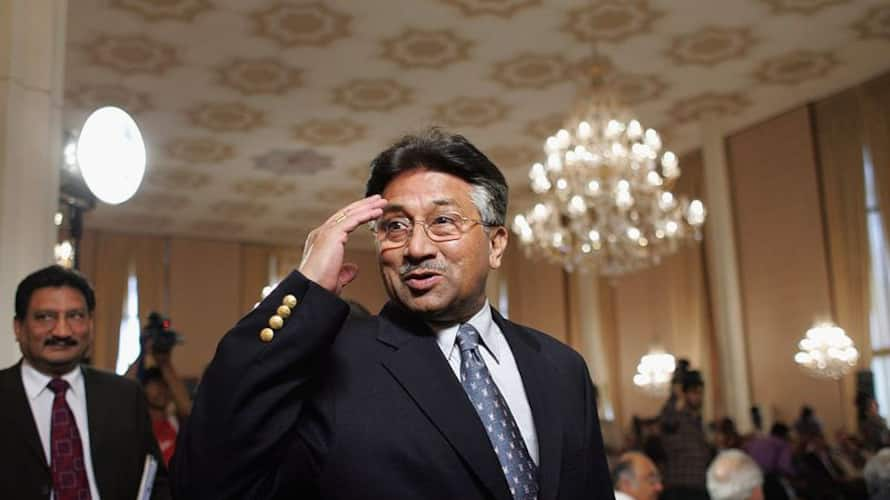 Pervez Musharraf, the former military dictator of Pakistan, was the architect of the 1999 Kargil war but later realised the importance of having good relations with India for his country's stability, strategic affairs experts said on Sunday.
The Delhi-born General who took control of Pakistan in a bloodless coup in 1999 and presided over that country from 2001 to 2008 passed away in Dubai after a protracted illness. He was 79.
Also read: Shashi Tharoor condoles Musharraf's demise, calls him 'foe-turned-real force for peace'; BJP slams Congress
Musharraf's legacy was "disputed," according to former Indian high commissioners to Pakistan G Parthasarathy and TCA Raghavan, who also claimed that after the catastrophic Kargil War, Musharraf realised that Pakistan would not change until it had excellent relations with India.
According to Raghavan, the improved ties between India and Pakistan started in 2004 under the leadership of Prime Minister Atal Bihari Vajpayee and continued under Prime Minister Manmohan Singh until the Mumbai terror assault in November 2008.
When asked about Khurshid Mahmud Kasuri's assertion in his book "Neither A Hawk Nor a Dove" that India and Pakistan were on the verge of resolving the contentious Kashmir issue during the 2001 Agra Summit between Vajpayee and Musharraf, Raghavan acknowledged that there was some truth to it while also arguing that the real momentum came at a later stage.
"His tenure saw both the highs and lows in India-Pakistan relations," Raghavan told PTI. 
"Musharraf was the architect of the Kargil war but, thereafter, he also realised that he needed to have good relations with India and made good progress in this regard, particularly with the softening of the LoC (Line of Control) and the beginnings of the cross-LoC movement of people and trade. So it's a twin kind of a legacy," he said. 
To warm the chilly relations between the two nuclear-armed neighbours, Musharraf paid a high-profile visit to India in July 2001 and met with Vajpayee for summit discussions in Agra.
"After he became President, I think he realised that for stability in Pakistan, it needed to have a better relationship with India. Kargil, he planned it when he was the Chief of Army Staff. But thereafter, he realised that unless he has more stability in relations with India, nothing would change in Pakistan itself," Raghavan said. 
"I think his is going to be a disputed legacy," he said.
Also read: Musharraf passes away: Timeline of Kargil War architect's engagements with India during his reign in Pak
Ambassador Parthasarathy, too agreed with Raghavan's analysis of Musharraf's legacy. "I personally knew Musharraf when I was the high commissioner. He was the man behind the Kargil conflict and he really believed that he would succeed in taking control of the entire mountainous areas in Kargil and affecting our lines of communication. The Indian Army responded to it very strongly, which resulted in a disaster for him," he recalled.
"Musharraf got a bad name at home because of the botched-up operation, which was really his doing. There was some doubt about whether then prime minister Nawaz Sharif was fully aware of what was happening," Parthasarathy told PTI. 
According to the former Indian envoy to Pakistan, Musharraf felt pressure, which resulted in the coup. When Musharraf overthrew Sharif as prime minister in a coup in October 1999, it also raised some concerns in India.
"And interestingly, he (after seizing power) found that hostility towards India is not working. We did have long discussions with him on Jammu and Kashmir on the back channel which showed some progress," Parthasarathy said. 
"We worked largely on PM Manmohan Singh's views that borders cannot be redrawn, but we can work towards making them irrelevant and making them just lines on the map, and that people on both sides of the Line of Control should be able to move more freely," he claimed. 
Parthasarathy said Singh also underlined the need for working out a cooperative and consultative mechanism. "We did have a very successful discussion on this, even a framework on it. However, his (Musharraf's) position had become weakened and he had to quit," Parthasarathy said. 
Former Deputy Chief of Army Staff Lt Gen Subrata Saha, referring to the Kargil war, said Musharraf "walked on thin ice" and "paid the price" too by losing his stature within Pakistan itself. 
"Quite erratic, he first disrupted the Lahore declaration by possibly surprising even PM Nawaz Sharif by waging the Kargil war. In 2001, he disappointed PM Vajpayee's overtures for peace by breaking down the Agra peace talks," he said. 
"The attack on India's parliament followed this in December 2001. Later during PM Manmohan's time, he made much hype about the four-point formula. There were too many sharp ups and downs in Musharraf's strategic conduct, and the inconsistencies made it impossible for India to trust the person," he told PTI. 
Following a historic conference between Vajpayee and Sharif in Lahore, the Lahore Declaration was signed on February 21, 1999. After the elections, Musharraf—who had called them under domestic and external pressure—was compelled to step down as President.
He established the All Pakistan Muslim League in 2010 and formally established himself as the party's leader. Musharraf was charged in March 2014 with suspending the Constitution on November 3, 2007.
Also read: Pervez Musharraf passes away: When former Pak president asked Dhoni not to get a haircut - WATCH
In the high treason case against Musharraf, a special court sentenced him to death in December 2019. The decision was later overturned by a court, though. In March 2016, after Pakistan's Supreme Court lifted a travel ban on him so he could receive medical care there, the former military ruler fled the nation for Dubai.
Musharraf was born on August 11, 1943, in Delhi. His family moved from New Delhi to Karachi in 1947. He joined the Pakistan Army in 1964 and graduated from the Army Staff and Command College, Quetta.
(With inputs from PTI)
Last Updated Feb 5, 2023, 8:01 PM IST