'Like Agatha Christie novel': Speculation over Chinese defence minister Li Shangfu's whereabouts grows
The article discusses Chinese President Xi Jinping's call for military unity and stability during an inspection in the northeast, against a backdrop of speculation surrounding the whereabouts of the defense minister Li Shangfu.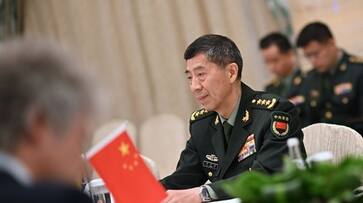 During an inspection in the northeast of China, President Xi Jinping emphasized the importance of unity and stability within the military, a message delivered amidst growing speculation surrounding the whereabouts of the country's defense minister Li Shangfu.
Xi urged for the enforcement of education and management of troops, stressing the need to maintain a high level of unity, security, and stability, as reported by Xinhua News on Sunday. These remarks from President Xi coincide with recent discussions about the unexplained absence of officials, including former foreign minister Qin Gang, former Rocket Force generals, and defense minister Li Shangfu.
Speculation about Li's location has been circulating on the social platform X, formerly known as Twitter. Li's last public appearance was on August 29 when he delivered a keynote speech at the 3rd China-Africa Peace and Security Forum in Beijing.
"President Xi's cabinet lineup is now resembling Agatha Christie's novel And Then There Were None. First, Foreign Minister Qin Gang goes missing, then the Rocket Force commanders go missing, and now Defense Minister Li Shangfu hasn't been seen in public for two weeks. Who's going to win this unemployment race? China's youth or Xi's cabinet?" wrote Rahm Emanuel, US Ambassador to Japan.
In recent weeks, observers have been closely monitoring unusual developments in Beijing. In July, Xi removed Qin, his handpicked foreign minister, from office without providing an explanation. Additionally, the two most senior leaders in the People's Liberation Army's Rocket Force, whom Xi had appointed, were subsequently replaced.
China's military also initiated an inquiry into corruption cases related to hardware procurement, dating back more than five years, in July. The PLA's Equipment Development Department disclosed eight issues under investigation, including the leakage of information on projects and army units, as well as assisting specific companies in securing bids.
Notably, the military mentioned that it was investigating issues dating back to October 2017, without specifying the significance of that date. Li, China's defense minister, had headed the equipment department from September 2017 to 2022, though there is no indication that he is suspected of any wrongdoing.
In his speech delivered on Friday, President Xi Jinping further emphasized the need to enhance combat readiness and develop new combat capabilities, as reported by Xinhua. He was accompanied by Zhang Youxia, vice chairman of China's top military body.
Last Updated Sep 11, 2023, 5:11 PM IST