Israel Parliament members moved to tears after watching October 7 Hamas atrocities footage (WATCH)
Members of Israel's Parliament watched video evidence from the October 7 Hamas massacre on Wednesday, following which many of them broke down and were left in tears.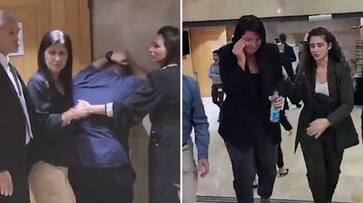 In a heart-wrenching and emotional session in the Israeli Parliament on Wednesday, members were presented with video evidence of the devastating Hamas massacre that occurred on October 7. The footage, which showcased the horrors of that fateful day, left many Knesset members visibly shaken and unable to hold back their tears. The 43-minute-long video was produced by the IDF Spokesperson's Office and showcased uncensored, difficult-to-watch videos, many taken from Hamas terrorists' bodycams.
At the behest of Knesset Speaker Amir Ohana, the military authorised lawmakers to conduct a private viewing of the footage, during which recording devices and cellphones were prohibited.
Also read: Annihilation of Israel is Hamas' ultimate goal; vows to repeat October 7 massacre multiple times (WATCH)
Prior to the screening, Ohana stated that he had organised the event to ensure that Israeli lawmakers would comprehend the nature of the adversaries they face. According to Times of Israel, quoting sources familiar with the event, Ohana expressed the intention for everyone to understand the validity of their actions in the ongoing conflict against this malevolent force.
The speaker also mentioned that the screening was a part of their efforts to counter those who seek to downplay the atrocities committed by Hamas on October 7. Over 50 Israeli parliamentarians attended the event, and in a video that has now gone viral on X, some were visibly distraught and moved to tears, including Ra'am leader Mansour Abbas.
Yesh Atid Member of Knesset Vladimir Beliak, posted on X, saying that he couldn't talk about the content and just had one sentence to say: "Never forget, never forgive."
"I saw everything to the end… It was important to look the monsters in the eye and see our dead. I left and told myself, we will win," Meirav Ben Ari, Yesh Atid MK, wrote.
The footage was compiled from call recordings, security cameras, body cameras worn by Hamas operatives, dashboard cameras of victims, content from both Hamas and victims' social media profiles, as well as cellphone videos recorded by terrorists, victims, and first responders.
Also read: Is this Israel's plan for Gaza population? 10-page leaked document reveals alleged intent amid war with Hamas
On October 7, Hamas militants carried out a meticulously coordinated, multi-pronged incursion across the Israel-Gaza border, causing widespread chaos throughout the day in kibbutzim and communities situated near the Gaza Strip. The assault resulted in the tragic loss of over 1,400 lives, with more than 1,000 of them being innocent civilians brutally killed in their homes and at an outdoor music festival. Additionally, at least 240 individuals were abducted during this horrific incident. This massacre ultimately ignited a conflict between Israel and Hamas.
The compiled footage, with only select portions made available to the public, was presented on Tuesday to a group of ambassadors in Israel and some of their diplomatic staff. In the previous week, the film was screened for approximately 200 members of the foreign press corps working in Israel.
Last Updated Nov 2, 2023, 10:13 AM IST