Annihilation of Israel is Hamas' ultimate goal; vows to repeat October 7 massacre multiple times (WATCH)
Ghazi Hamad, a member of the Palestinian terrorist outfit's political bureau, has vowed that they will repeat the October 7 massacre on Israel a multiple times until the 'illogical' nation ceases to exist.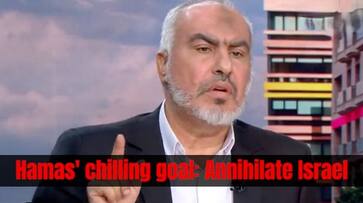 In an explosive interview with a Lebanese TV channel, Ghazi Hamad, a member of Hamas's political bureau, stated that the organisation intends to carry out attacks similar to the one on October 7 massacre repeatedly until Israel is no longer in existence. Hamad expressed his belief that Israel has no rightful place in the region, describing it as a security, military, and political threat to the Arab and Islamic nations. He didn't shy away from declaring this stance openly.
Also read: Is this Israel's plan for Gaza population? 10-page leaked document reveals alleged intent amid war with Hamas
UK Foreign Secretary James Cleverly shared a clip of this interview on X, which has now gone viral and drawn the attention to the statement made by Ghazi Hamad.
In the interview, Hamad stated that Israel must be wiped off all "Palestinian lands," i.e., must be completely annihilated, claiming that its existence is "illogical".
"Israel is a country that has not place on our land. We must remove that country, because it constitutes a security, military and political catastrophe to the Arab and Islamic nation, and must be finished. We are not ashamed to say this with full force. We must teach Israel a lesson, and we will do this again and again. The Al-Aqsa Flood is just the first time, and there will be a second, a third, a fourth because we have the determination, the resolve, and the capabilities to fight," the Hamas leader said in the interview.
He added, "Will we have to pay a price? Yes, and we are ready to pay it. We are called a nation of martyrs, and we are proud to sacrifice martyrs. We did not want to harm civilians, but there were complications on the ground, and there was a party in the area, with civilian population. It was a large area, across 40 kilometres. The occupation must come to an end. I am talking about all the Palestinian lands."
When the Lebanese journalist asked Hamad if this means the annihilation of Israel, the Hamas leader firmly said, "Yes, of course."
Also read: Israel-Palestine war: Internet, mobile networks down in Gaza Strip; second incident in a week
"The existence of Israel is illogical. The existence of Israel is what causes all the pain, blood and tears. It is Israel, not us. We are the victims of the occupation. Period. Therefore, nobody should blame us for the things we do. On October 7, October 10,  October 1,000,000... everything we do is justified," Ghazi Hamad concluded.
Ghazi Hamad's statement comes at a time Israel Defense Forces (IDF) carries out a ground attack in Gaza Strip in an attempt to eliminate the Palestinian terrorist organisation. John Kirby, a spokesperson for the White House National Security Council, has strongly condemned the "chilling comments" made by senior Hamas official Ghazi Hamad. "That's what's Israel faces," Kirby told reporters after Air Force One landed in Minneapolis.
Last Updated Nov 2, 2023, 9:37 AM IST