Israel-Hamas war: Outrage over quality of UN aid as 'nearly expired' biscuits delivered to Gaza (WATCH)
Even as the Israel-Hamas war rages on, the alleged delivery of nearly expired biscuits to Gaza by the United Nations' World Food Program (WFP) has sparked a massive outrage among Gazans.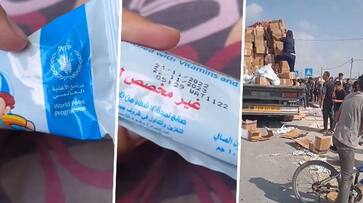 Amid the ongoing Israel-Hamas war, recent delivery of humanitarian aid to Gaza by the United Nations' World Food Program (WFP) in the form of nearly expired "biscuits" has stirred up significant apprehension regarding the quality and effectiveness of aid distributed in the conflict-stricken region. As Gaza grapples with the ongoing dire situation due to conflict, the provision of humanitarian assistance remains critical. However, the allegations of nearly expired food items has prompted many to question the efficiency and appropriateness of aid facilitated by the United Nations even as outrage among Gazans rages on.
Also read: Fact Check: Did IDF send 'attack dogs' inside tunnels to go after Hamas terrorists? Truth about viral video
The reports shedding light on the delivery of nearly expired food items to a region in dire need underscore the challenges encountered in delivering aid in conflict zones. While the urgent supply of substantial assistance is paramount, maintaining the quality and freshness of essential food items is equally crucial. The concerns raised are not merely centered on the nutritional value of the aid but also highlight potential health risks associated with consuming food nearing expiration, particularly in regions where access to healthcare is severely limited.
Humanitarian aid in conflict zones plays a pivotal role in addressing immediate needs, but it must meet adequate quality standards to ensure the well-being of the recipients. The delivery of near-expiry biscuits raises alarms about the adequacy of the aid provided, potentially jeopardizing the health and nutritional requirements of those reliant on this support.
Also read: Yet another bone-chilling video of October 7 massacre by Hamas emerges (WATCH)
The situation in Gaza remains precarious, exacerbated by the long-standing conflict and stringent blockades that restrict the free flow of essential goods and services. Thus, the quality of aid is of utmost importance, particularly when considering the vulnerable conditions under which it is distributed.
The alleged incident has underscored the necessity for thorough assessments of aid items before dispatch and during the distribution process to prevent the dissemination of substandard or nearly expired provisions. Additionally, it has sparked a call for increased oversight and accountability within the humanitarian aid sector to guarantee that the aid distributed meets the essential standards of quality and does not pose health risks to those in need.
Last Updated Nov 5, 2023, 2:04 PM IST