Amid war with Israel, Hamas releases two American hostages for 'humanitarian reasons'
Amid the ongoing war with Israel, Hamas released two American hostages - a mother and her daughter - for 'humanitarian reason' in response to Qatari mediation efforts.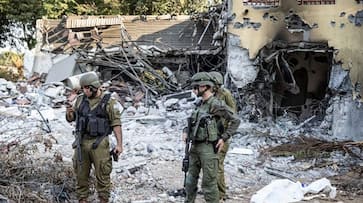 Amid the ongoing war with Israel, Palestinian terrorist group Hamas on Friday released two American hostages, from around 200 captives abducted since the attacks on October 7. According to Israeli media, Hamas released an American woman and her daughter in response to Qatari mediation efforts.
Also read: Over 200 empty chairs: Israelis set up symbolic Shabbat Dinner tables for hostages held by Hamas (WATCH)
"In response to Qatari efforts, (Ezzedine) al-Qassam Brigades released two American citizens (a mother and her daughter) for humanitarian reasons," Hamas said in a statement posted on Telegram.
The Islamist group did not detail how or when the hostages were released.
Earlier today, the Israeli military offered an update on the status of those abducted to Gaza, confirming that the majority of the hostages are still alive. In a statement released, the military disclosed that some individuals had also tragically lost their lives during the conflict and their bodies were taken to the Gaza Strip.
The military's statement further revealed that more than 20 of the hostages were minors, emphasizing the significant toll on innocent children. Additionally, there were between 10 and 20 hostages over the age of 60, reflecting the diverse ages of those affected.
The situation is further complicated by the fact that there are between 100 and 200 individuals who are considered missing since the attacks initiated by Hamas. These numbers underline the ongoing uncertainty surrounding the status and whereabouts of numerous individuals.
Also read: 'We fight for our existence': Israel resolute ahead of Gaza ground offensive; vows to defeat Hamas (WATCH)
On October 7th, the Palestinian militant group executed a devastating assault on Israel, marking one of the most severe in the nation's 75-year history. The attack resulted in a tragic loss of over 1,400 lives, predominantly civilians, according to Israeli officials.
In response to these events, Israel launched a relentless bombardment campaign, which has led to the deaths of at least 4,137 people in the Gaza Strip, with the vast majority of casualties being civilians, as reported by the Hamas-run health ministry. This ongoing conflict continues to take a heavy toll on both sides.
Last Updated Oct 20, 2023, 11:23 PM IST