Over 200 empty chairs: Israelis set up symbolic Shabbat Dinner tables for hostages held by Hamas (WATCH)
The families of the hostages held in Gaza have arranged a sizable Shabbat dinner table in Tel Aviv, complete with challah, wine, candles, place settings, and 203 vacant chairs symbolizing those presently in the custody of terrorists in Gaza.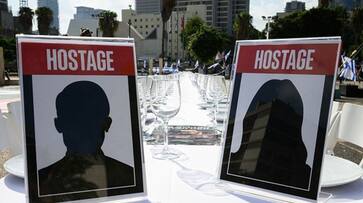 On October 7th, a dawn raid carried out by gunmen from the Palestinian group Hamas led to the taking of at least 200 hostages and the tragic loss of approximately 1,400 lives in communities and military bases in southern Israel. In response, Israel initiated a series of air strikes on Gaza, resulting in thousands of casualties, and made clear its intention to both rescue the hostages and dismantle Hamas. Israeli forces have massed tanks and troops near the Gaza border, urging Palestinians to evacuate the northern region in anticipation of a ground invasion.
Hamas has suggested the possibility of a hostage swap, aiming to exchange these captives for around 6,000 Palestinians currently held in Israeli prisons. This approach is reminiscent of a similar exchange in 2011 when Israel faced criticism for releasing 1,027 Palestinian prisoners in exchange for one Israeli soldier.
Also read: 'We fight for our existence': Israel resolute ahead of Gaza ground offensive; vows to defeat Hamas (WATCH)
Israel has made it clear that the blockade on Gaza will not be lifted until their hostages are freed.
Meanwhile, an installation extends across the entire plaza outside the Tel Aviv Museum of Art, featuring a table set for 200 in a pristine Shabbat arrangement, yet painfully unoccupied. Some high chairs, children's cups, and white roses on certain plates emphasize the symbolism: This table represents the over 200 hostages currently held by Hamas in Gaza.
One of the most prominent and widely employed tactics has involved the global distribution of "Kidnapped" posters in multiple languages, featuring the faces and narratives of all the known captives. The unoccupied Shabbat table is poised to stand alongside these posters as a symbol of the captives' predicament.
The tradition of setting an empty seat to represent prisoners has been a part of the global Jewish protest tradition since the 1960s, when it became a hallmark of the movement advocating for the liberation of Soviet Jews.
Earlier this year, some Jewish individuals committed to leaving an empty seat at their Passover seders as a symbolic gesture for Evan Gershkovich, a Jewish-American journalist who was detained in Russia.
How many hostages are there in Hamas' captivity?
As for the hostages, an estimated 200 individuals are currently held, including 30 minors, young children, and 20 individuals over the age of 60, according to Israel's public broadcaster Kan, citing military sources. Hamas, on the other hand, claims the number could be between 200 and 250, and they have reported that more than 20 hostages have already lost their lives due to Israeli air strikes.
Also read: Equipped for combat! Protective gear to medial supply - Israel gears up for Gaza ground offensive (WATCH)
Where are the hostages?
The exact whereabouts of the hostages within Gaza are unknown, making rescue efforts significantly more complex. It is believed that many of them may be held in the labyrinth of tunnels under Gaza, often referred to by Israeli troops as the "Gaza Metro."
On Monday, Hamas released a video featuring Mia Schem, a 21-year-old French-Israeli woman who was taken captive during a dance party. The video shows her receiving medical treatment for an arm injury from an unidentified healthcare worker.
What nationalities do the hostages belong to?
These hostages come from various nationalities, with many holding Israeli citizenship. Notably, more than 20 Americans are missing, according to US national security adviser Jake Sullivan. Republican Senator Jim Risch also stated that 10 of the hostages are American citizens.
Thailand reports that 14 of its citizens are among the captives, while eight Germans were seized, with approximately half of them taken from a kibbutz.
Argentine President Alberto Fernandez revealed that 16 of his countrymen were being held. Nine British nationals have been confirmed dead, and seven are still missing.
France has not specified the exact number of its citizens held in Gaza, although seven are unaccounted for following the attacks, some of whom are believed to be hostages.
An 18-year-old Dutch national, Ofir Engel, was kidnapped from Kibbutz Be'eri and taken to Gaza. Portugal assumes that four Portuguese-Israelis who are missing have been taken hostage, and Israeli-Chilean Dafna Garcovich was taken hostage along with her Spanish husband Ivan Illaramendi.
Italy reports that two dual Italian-Israeli nationals are missing and presumed kidnapped.
Hamas's armed wing announced on October 16 that the kidnapped non-Israelis are considered "guests" and will be released "when circumstances on the ground allow."
Also read: Israel-Hamas war: Satellite imagery reveals IDF's preparedness for ground offensive into Gaza
What has Israel has done to end hostage crisis?
In response to these developments, governments are taking various measures. Israeli Prime Minister Benjamin Netanyahu has appointed a retired general, Gal Hirsch, as Israel's coordinator on hostages and missing persons.
Qatari mediators have attempted negotiations to secure the release of Israeli women and children held by Hamas in exchange for 36 Palestinian women and children from Israeli prisons. So far, no deal appears to be imminent.
Turkey is also engaging in talks with Hamas to secure the release of foreigners, civilians, and children. US President Joe Biden has pledged to work diligently to locate American hostages held by Hamas and has sent a small team of special operations forces to Israel to assist with intelligence and planning for potential rescue operations.
The UK's Chancellor Rishi Sunak is coordinating with regional partners to help bring the hostages home. Argentina's President Fernandez is in discussions with Israeli intelligence forces to locate Argentine hostages.
Germany has taken a legal route, opening an investigation into members of Hamas for suspected murder, manslaughter, and hostage-taking, a move dictated by German law in cases involving German citizens.
Meanwhile, families of the hostages have been actively advocating for their loved ones' safe return. French families with missing Franco-Israeli citizens are appealing to French President Emmanuel Macron for assistance. German hostage families plan to hold a rally in Berlin to call for the release of their relatives after meeting with German Chancellor Olaf Scholz in Tel Aviv. US citizens in Tel Aviv are urging President Biden to utilize all available resources to locate and rescue their kidnapped relatives.
Last Updated Oct 20, 2023, 8:11 PM IST