Forces operating in 'heart of Gaza city' to wipe out Hamas, says Israel
Israel said its forces were operating "in the heart of Gaza City" one month after Hamas's bloody October 7 attacks, as the campaign to crush the Palestinian militants intensifies.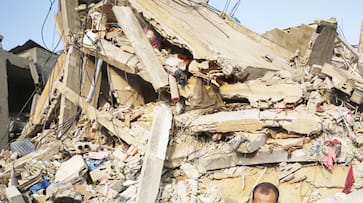 Israel said its forces were operating deep in Gaza City in their battle to wipe out Hamas in the Palestinian enclave and said the Islamist militant group's leader was trapped inside a bunker there. The Israeli military is concentrating on Gaza City, Hamas' base in the northern part of the region, in retaliation for a fatal attack on October 7 by gunmen from Hamas. 
Prime Minister Benjamin Netanyahu also issued a stark warning to Hezbollah in Lebanon which, like Hamas, is backed by Iran.
In a televised remark to commemorate one month of the conflict, he declared, "If Hezbollah decides to join the war, it will be making the mistake of its life." His defence minister, Yoav Gallant, underlined Israel's determination "to destroy Hamas".
Also Read | Gaza war: Video of alleged assassination attempt on Palestinian President Mahmoud Abbas surfaces (WATCH)
Gallant told a televised news conference that Israeli soldiers had advanced to the heart of Gaza City and "were tightening the noose". Troops on foot and in armoured vehicles and tanks "have one target – Hamas terrorists in Gaza, their infrastructure, their commanders, bunkers, communications rooms," Gallant said.
According to the health ministry operated by Hamas in the Palestinian territory, Israel has pledged to exterminate the Islamist terrorists over their stunning attack and has launched a campaign in the Gaza Strip that has killed over 10,300 Palestinians, largely civilians.
Netanyahu has stated that a ceasefire won't occur until the hostages are released, despite increasing calls for one. According to his statements, Israel will take up "overall security" in Gaza following the conclusion of the conflict, with the possibility of "tactical pauses" in order to release prisoners and provide humanitarian relief to the 2.4 million people living under blockade.
Last Updated Nov 8, 2023, 9:12 AM IST