Gaza war: Video of alleged assassination attempt on Palestinian President Mahmoud Abbas surfaces (WATCH)
Amid the ongoing Israel-Hamas war in Gaza, video of an alleged assassination attempt on Palestinian President Mahmoud Abbas, attributed to a group called the "Sons of Abu Jandal", has surfaced online.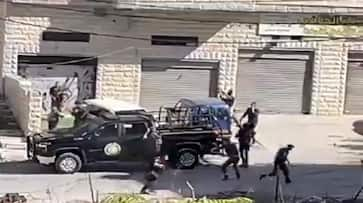 Even as the war between Israel and Hamas rages on in Gaza, Palestinian President Mahmoud Abbas's security was sadly shot and killed during an alleged attempt to assassinate the leader. This alleged incident occurred after a group called the "Sons of Abu Jandal" reportedly gave the Palestinian leader 24 hours to declare a "global war" against Israel. "Sons of Abu Jandal" emerged within the Palestinian security apparatus in the West Bank and took credit for the alleged assault on Abbas's convoy. There's no official confirmation from the Palestinian National Authority (PNA) on the alleged assassination attempt.
Also read: A month on, Israel's most devastating war in Gaza is poised to escalate further
Please note: Asianet Newsable does not vouch for the authenticity of the video that has now gone viral on X.
The US Secretary of State Antony Blinken had visited the occupied West Bank the day before when this alleged incident happened. He emphasised that Palestinians must have a voice in Gaza's post-conflict future while assuring President Abbas that the Biden administration is making every effort to aid Gaza's civilian population. At least 53 people were killed when Israeli planes bombarded two refugee camps in Gaza on the day that Blinken was visiting.
The Israeli military has said that it has successfully split the Gaza Strip in half in advance of an expected stepped-up assault on northern Hamas sites. Palestinians demonstrated against US support for Israel's conflict, waving placards that said, "Blinken blood is on your hands," and depicted pouring blood as word of the animal's arrival in Ramallah spread.
Also read: One month later: How Gaza war has reshaped reality for Israelis, Palestinians as threat of WWIII looms
As they greeted one another in front of cameras, Blinken and Abbas remained silent, and their encounter concluded without any remarks from the public.
After Hamas won elections in the Gaza Strip in 2007, the Palestinian Authority, which oversees semi-autonomous regions of the Israeli-occupied West Bank, has not had any influence there since. Palestinians do not think well of Abbas.
Blinken stated in Baghdad that the Palestinian Authority "is playing a very important role right now in the West Bank in trying to keep stability there."
Last Updated Nov 8, 2023, 8:53 AM IST