Coronavirus: US adds 1,894 COVID-19 deaths in 24 hours according to tracker
The US reported the most number of COVID-19 deaths at 81,805 among 13,58,901 cases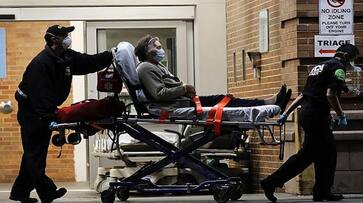 Washington DC: The United States recorded 1,894 coronavirus deaths in the past 24 hours, bringing the total to 82,246, according to the real-time tally by Johns Hopkins University. The figure was a sharp rise after daily tolls fell below 1,000 on Sunday and Monday.
The country hardest hit by the pandemic in terms of the number of fatalities, has now confirmed a total of 13,67,927 cases, the Baltimore-based school reported.
Meanwhile, the US government's top infectious disease expert issued a blunt warning on Tuesday that cities and states could "turn back the clock" and see more COVID-19 deaths and economic damage alike if they lift coronavirus stay-at-home orders too fast, a sharp contrast as President Donald Trump pushes to right a free-falling economy.
"There is a real risk that you will trigger an outbreak that you may not be able to control," Dr Anthony Fauci warned a Senate committee and the nation as more than two dozen states have begun to lift their lockdowns as a first step toward economic recovery.
While New York is hardest hit in the US, its beloved Broadway theatres will not reopen until at least early September, its trade association announced Tuesday.
While the Broadway League did not set a date for performances to resume, they said refunds and ticket exchanges are now offered for performances through September 6.
The decision is not particularly surprising given that New York remains the US epicenter of the coronavirus pandemic, with COVID-19 continuing to kill more than 150 people a day in the state.
Reopening the arts and entertainment sectors, a major feature of life in New York, is in the final phase of Governor Andrew Cuomo's four-part plan to return economic and cultural activity to the state.
Last Updated May 13, 2020, 9:50 AM IST