A cab driver in Spain was honoured with standing ovation and a cheque by doctors during the coronavirus crisis. Watch the video here. The video has got over 10 million views on Twitter
Madrid: Spain is one of the worst-hit countries by the coronavirus (COVID-19) pandemic. In these tough times, here comes an act of kindness which has turned many on social media emotional.
A video clip shared by El Taxi Unido (Spanish Taxi Union) on the micro-blogging website Twitter shows a sweet gesture from doctors and other health workers in Madrid. In the video the medical staff is giving a standing ovation to a taxi driver and also a cheque.
Also read: This country recommends hugging during virus crisis
This was a huge surprise for the taxi driver. They had planned this to thank him for giving free rides to patients amid the coronavirus crisis in Spain. The driver turned emotional. He was teary-eyed after receiving the cheque.
Also read: Indian flag lit up on Switzerland mountain
The doctors had called up the cab driver to pick a patient. And when he entered the hospital, they began to clap. The clip has been viewed over 10 million times on Twitter.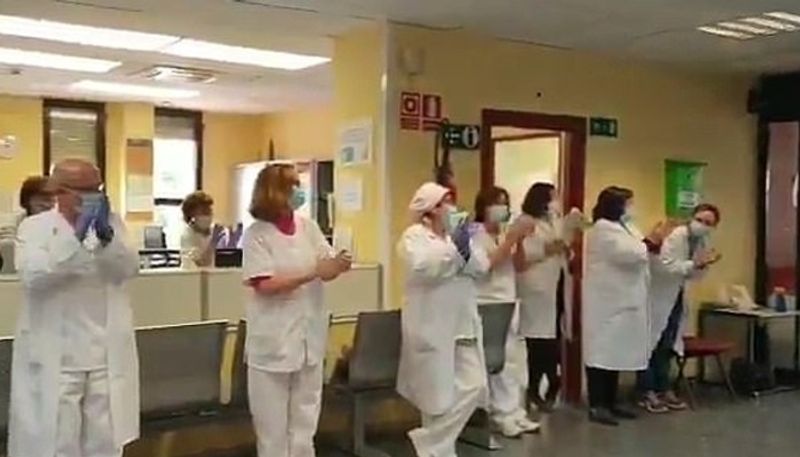 El Taxi Unido wrote with the video, "Thanks to him and them."
In Spanish it also wrote what the health workers had said. "It is a surprise that we have given a taxi driver who takes patients without charge to the hospital. We have given him an envelope with money and a dedication. We have called him to say that he had to make a transfer and it has been very exciting. He did not stop to cry."
"Es una sorpresa que le hemos dado a un taxista que lleva a pacientes sin cobrar al hospital.Le hemos dado un sobre con dinero y una dedicatoria.Le hemos llamado para decirle que tenía que hacer un traslado y ha sido muy emocionante. No paraba de llorar."
Gracias a el y a ellos. pic.twitter.com/CcXX1BVfko

— #ElTaxiUnido (@eltaxiunido) April 18, 2020
There were plenty of comments thanking the taxi driver and also the hospital.
"This crisis is bringing out the best in many citizens. And rewarding them for it never hurts. That is precisely what they have done in a Madrid hospital, paying tribute to a taxi driver who takes patients without charging them," a Twitter user wrote.
"I am proud to be a taxi driver, son of a taxi driver and father of a taxi driver. Come on, comrades!" another user said.
Over 21,000 have died in Spain due to coronavirus and nearly 2 lakh people have been infected. The death toll due to the deadly virus is the third-highest in the world after the US and Italy. Currently, Spain is under a lockdown.