Antony Blinken's music diplomacy: WATCH US Secretary of State's 'rock-and-roll' moment
US Secretary of State Antony Blinken introduces a music diplomacy initiative, bringing together top artists to foster international connections and cultural exchange.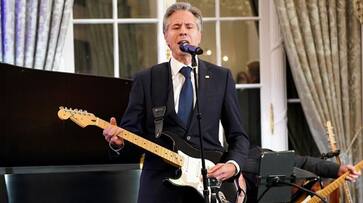 US Secretary of State Antony Blinken, known for his diplomatic efforts in support of Ukraine, displayed another facet of his diplomacy on Wednesday – his musical talent as a guitarist. A lifelong music enthusiast turned top US diplomat, Blinken launched a new initiative in music diplomacy, aimed at sending leading American artists to countries like China and Saudi Arabia.
The State Department's formal reception room witnessed captivating performances by renowned artists such as jazz legend Herbie Hancock, Dave Grohl of Nirvana and Foo Fighters fame, and the emerging pop sensation Gayle. Following these remarkable acts, Blinken himself took the stage, playfully predicting that he would "clear the floor."
With a rhythm guitar in hand and his usually soft-spoken voice transformed into a deep, soulful tone, Blinken delighted the audience, many of whom were his colleagues at the State Department, with his rendition of "Hoochie Coochie Man" by blues icon Muddy Waters. The crowd, instead of departing, cheered in appreciation of his unexpected musical talent.
US pop culture has exerted its influence globally for decades, largely without direct government support. However, during the Cold War, the United States enthusiastically dispatched artists to win over international audiences, including Black artists who, at the time, were compelled to perform in segregated venues in certain parts of their own country.
As part of Blinken's new music diplomacy initiative, Herbie Hancock will commemorate the 1963 tour by jazz pianist Duke Ellington with a visit to Jordan. Hancock will also make a groundbreaking trip to Saudi Arabia, a traditionally conservative Islamic state that has only recently begun allowing public music performances.
In November, the Philadelphia Orchestra will travel to China, marking 50 years since their first tour of the Asian country in 1973 when China was largely isolated from the world during the Cultural Revolution.
Blinken's Global Music Diplomacy Initiative plans to facilitate tours by a diverse range of American acts to 30 countries over the next year. The initiative will also see US hip-hop artists traveling to Nigeria to explore the role of music in addressing conflict.
"For generations, US diplomacy has worked to harness the power of music to actually build bridges, to foster collaboration between Americans and people around the world," Blinken said in a speech before his performance. "You don't have to know any history to connect the feelings behind the music because music at its core is about a bond rooted in our shared humanity," he added.
The event brought a rare moment of bipartisan unity in Washington, with Representative Mike McCaul, the Republican head of the House Foreign Affairs Committee, commending Blinken's efforts and likening the evening to the legendary performances hosted at the White House during John F. Kennedy's presidency.
These exceptional performances took place in the newly renovated reception room at the State Department, named in honor of Benjamin Franklin, a multifaceted diplomat and scholar from the Revolutionary War era, illuminated by glittering chandeliers and beneath the resplendent ceiling seal of the United States, adorned with the iconic eagle emblem.
"I am deeply honored but also a bit freaked out to be here," remarked pop-rock artist Aimee Mann as she began her performance.
Last Updated Sep 28, 2023, 1:38 PM IST