30% of hospitalised coronavirus patients develop dangerous blood clots: Medical experts
The clots, also known as thrombosis, could be contributing to the number of people dying.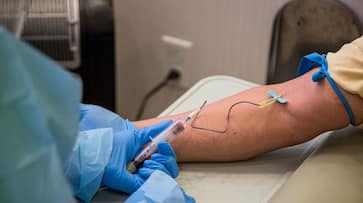 According to medical experts, up to 30% of patients who are seriously ill with coronavirus are developing dangerous blood clots. The clots also known as thrombosis may contribute to deaths.
Severe inflammation of the lungs – the body's natural response to the virus – is behind their formation.
Patients around the world are affected by many medical complications from the virus, some of which can be fatal.
In March, as the coronavirus spread around the world, doctors began to see much higher clot rates in patients admitted to hospital than they normally thought they would.
And there have been other surprises, including the discovery of hundreds of micro-clots in the lungs of some patients.
The virus has also increased cases of deep vein thrombosis - blood clots usually found in the leg - which can be life-threatening when fragments break off and move up the body into the lungs, blocking blood vessels.
The total number of global coronavirus cases has surpassed 4.7 million, including more than 312,000 fatalities. More than 1,810,000 patients are reported to have recovered.
Last Updated May 17, 2020, 11:37 AM IST