US submarine collision in South China Sea: Commander, two others fired
USS Connecticut (SSN 22) submarine's commanding officer Cameron Aljilani and two others sacked following an investigation into the October 2 accident in the South China Sea.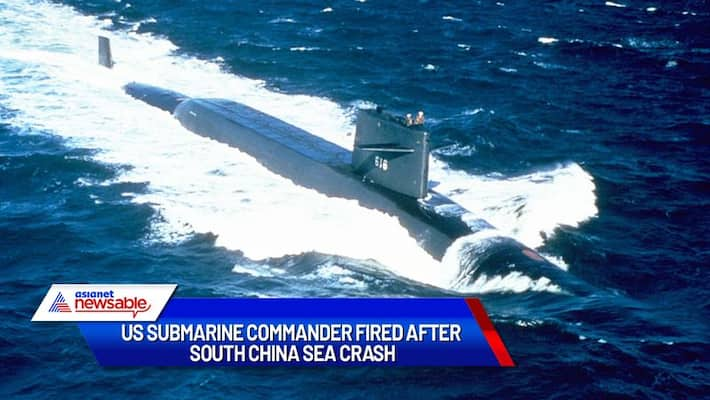 Over a month after a nuclear-powered US submarine collided with an underwater mountain in the disputed South China sea, the United States Navy on Thursday (November 4) sacked the commanding officer and two others post an in-depth investigation into the accident that took place on October 2, 2021.
According to the US Navy, had the team onboard adhered to the required procedures in navigation planning, the USS Connecticut submarine accident could have been prevented. An interim commanding officer has replaced Commander Cameron Aljilani.
Following the accident, the USS Connecticut (SSN 22), a Seawolf-class fast-attack submarine, was forced to sail to Guam for damage assessment. The nuclear-powered sub will return to its base in Bremerton, Washington, for repairs once the evaluation is completed. Reports suggest that the collision with an unchartered 'seamount' while patrolling below the sea surface damaged the USS Connecticut's forward ballast tanks without harming its nuclear plant.
"
Eleven sailors were reportedly injured in the South China sea accident. For weeks, the US Navy claimed that the nuclear-powered submarine had crashed into an 'unknown object' while underwater in international waters. The USS Connecticut (SSN 22) had 140 crew members onboard at the time of the accident, including 14 officers.
The economically significant South China Sea is one of the world's most disputed waterways. The US Navy has been conducting 'freedom of navigation operations to challenge Beijing's territorial claims on small islands, outcrops and reefs. Not just China, but neighbouring nations like Brunei, Malaysia, the Philippines, Vietnam and Taiwan also claim parts of the Sea.
In 2016, the International Court of Arbitration, Hague, ruled that China had no historic title over the South China Sea and rejected Beijing's nine-dash line, increasing tensions in the disputed waterway ever since.
Also watch: US nuclear attack submarine collides with 'unknown object' in South China Sea
Last Updated Nov 5, 2021, 1:45 PM IST