World famous Mysuru Dasara inaugurated by former Karnataka CM SM Krishna; 'PM Modi honest in his speech'
The world-famous Dasara event was inaugurated by senior politician and former Karnataka CM SM Krishna on Thursday. At the inauguration event, Krishna praised PM Narendra Modi saying he is doing a great job and also prayed to Goddess Chamundi for his good health.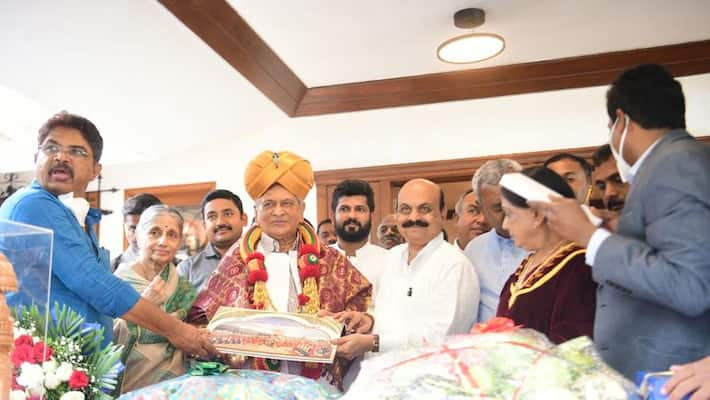 After inaugurating the 411th annual Dasara event at Mysuru's Chamundi Hills, former Karnataka CM and senior politician SM Krishna praised PM Narendra Modi and also prayed for his health.
Speaking after offering special puja and inauguration, Krishna said that PM Modi is an honest politician and is making sincere efforts in leading the country into a developing path.
As Covid-19 pandemic has dampened the festive spirits, Krishna said that he also prayed to Godesses Chamundi to bless the country to come out of the corona curse.
As Mysuru is declared as a heritage city, Krishna also pitched for package tours for Mysuru at the event.
Also read: PM Modi greets nation on Navratri 2021, wishes for 'strength, good health and wealth'
The veteran politician also recalled that during his childhood days, he would walk up to Chamundi Hills to witness the glorious event. He also mentioned that Mysuru royal kings struggled a lot to ensure the festival is celebrated in their region in a very grand way.
The state government issued guidelines that only 100 members will be allowed to gather at the inauguration of the Dasara event at Chamundi Hills and for all the cultural events only 500 members are allowed to gather.
The customary durbar event is only limited for the Royal family and the staff and police on Dasara duty. All have been vaccinated.
Entry at the event for the public comes with restrictions like wearing a face mask, hand sanitization and maintenance of social distance.
Last Updated Oct 7, 2021, 12:52 PM IST