Meet Laxmi and Siddhanath, the guardians of African cheetahs in MP's Kuno National Park
Two elephants, Siddhanath (41) and Laxmi (10) have been brought from Satpura Tiger Reserve to Kuno National Park for the security of the eight Namibian cheetahs that were re-introduced in India on September 17, after over 70 years. The jumbos had to do undergo a special training for the monitoring of the feline, and were brought a month before the arrival of the cheetahs.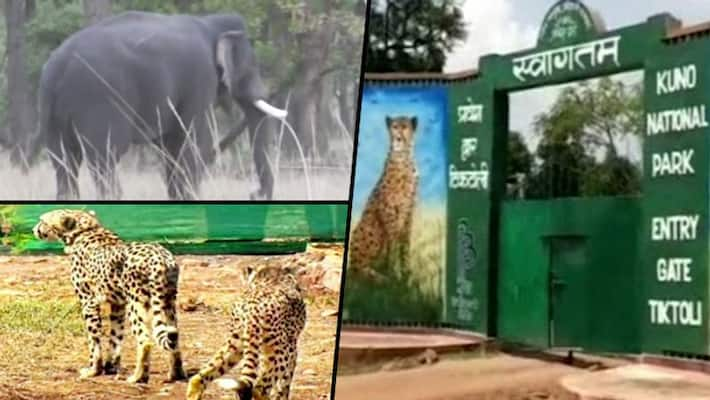 India created a history when it re-introduced African cheetahs in the jungles of Kuno National Park on September 17, situated in Madhya Pradesh's Sheopur district. On Prime Minister Narendra Modi's 72nd birthday, the eight cheetahs from Namibia were re-introduced after 70-long-years since the time they went extinct in 1952.
Presently kept in enclosures, the eight cheetahs including 'Asha' and 'Freddy' who have been put under a month-long quarantine, will eventually be released into the wild. The forest department has been so vigil about the safety and security of these big cats that not only have they been satellite collared, but their enclosures to have been fitted with high-end CCTV cameras for 24 hours security.
Also Read: Amidst 'Project Cheetah' celebrations, MP loses yet another tiger
But it's not just with the help of technology that these feline are being protected. In fact, they have their very security guards -- Laxmi and Siddhanath, who have been deployed to Kuno, only for the protection of the Namibian cheetahs.
Wondering who Laxmi and Siddhanath are? Do not mistaken them for human beings. These two guardians of the eight cheetahs are forest department's elephants who were brought last month from Satpura Tiger Reserve and are not settled in Kuno. Upon their arrival, Siddhanath (41) and Laxmi (10) had to undergo a month-long special training programme that was designed for these two so that the two can be more vigil about the safety and security of the cheetahs.
Along with constant monitoring of the feline, the two elephants are well-trained to prevent any predator animal from wandering around the enclosure. Both these elephants have expertise in controlling, patrolling or rescue operation of any wild animal; they are specially trained for these tasks. Seeing these qualities of Lakshmi and Siddhanath, they were sent to Kuno a fortnight ago. Here, they have been stationed near a special enclosure built to keep the cheetahs in quarantine. While presently the elephants have been posted for the period of quarantine, their time at Kuno might further be extended, depending upon the need of the department.
Also Read: Cheetahs' 1st moments on Indian soil: From entry to 360-degree scan of new environment - here's what happened
Last Updated Sep 21, 2022, 12:21 PM IST