'Commission' controversy rocks Karnataka Dasara festivities; Sarod wizard fumes over outrageous demand
Renowned sarod player and Padma Shri awardee, Pandit Rajeev Taranath, known as the 'Sarod wizard', found himself in an unexpected situation during the preparations for this year's Dussehra festivities. Dussehra officials invited the celebrated artist to perform, but the invitation took an unexpected turn when officials asked for a commission as part of the remuneration.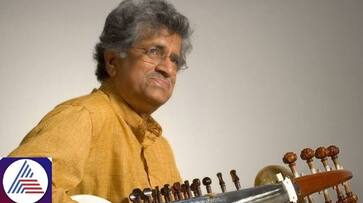 The artist, well-known for his directness and integrity, expressed his outrage at the officials' request for a 'commission' after already agreeing on the terms of his performance. According to Pt. Taranath, the program was initially scheduled, and the remuneration was finalized. However, two officials later approached him and demanded an additional Rs. 3 lakh to be added to his agreed-upon remuneration. They assured him that the extra amount would be transferred via RTGS into his account but asked for a kickback in return.
Pt Taranath, known for his principled stance, did not hesitate to reprimand the officials who made the commission request. He firmly rejected the demand, refusing to engage in such practices. Consequently, it has come to light that his participation in the Dussehra program was subsequently canceled.
Also read: Mysuru Dasara 2023: KSRTC to operate additional 2000 buses for passengers
Pt Rajeev Taranath is a 91-year-old veteran artist and a highly respected figure in the world of sarod music. With a massive fan base worldwide, he has graced the Dussehra stage with his performance four times. Typically, artists are not allowed to perform for three years after their previous performance. In Pt Taranath's case, he was invited again this year due to his outstanding performances earlier. However, the unfamiliarity of officials with his reputation and direct conduct apparently led to the commission request.
Reflecting on the incident, Pt Rajeev Taranath highlighted the exploitation of artists through commission activities and expressed his disapproval. He emphasized that such practices were not worth encouraging, and he did not hesitate to take a principled stance by declining the request. He also raised a concern about the challenging climate for local artists in contrast to other states where local artists are typically encouraged.
Last Updated Oct 14, 2023, 11:23 AM IST