KCR claims that this promotion is essential so that farmers are made aware of how much the state is doing for them
Telugu Desam Party leaders have said that CM has time to talk to filmmakers but not to visit distressed chilli farmers
Even former Tamil Nadu chief minister J Jayalalithaa had people sing her praises
In a move that has raised many eyebrows, Chief Minister of Telangana K Chandrasekhar Rao called for a meeting recently wherein he asked writers and filmmakers to make films, videos and write songs to praise, promote and propagate the welfare schemes launched by his government.
The timing of this order is very disturbing as the state is currently undergoing a difficult period of drought and an agrarian crisis. Water too seems to be an issue with the Nagarjuna Sagar Dam reservoirs drying up and farmers being in a bad shape. Ironically, the CM has asked the film delegation to write songs praising policies for farmers.
According to a report in the Hans India, directors, poets and writers including Goreti Venkanna, Chandra Bose, Ananta Sreeram, Suddhala Ashok Teja, Jayaraj, Shankar and Sahitya Academy Chairman Nandini Siddha Reddy were present at the meeting in Pragathi Bhavan with the CM.
Aata-paata should help build Bangaru Telangana.
KCR claims that this promotion is essential so that farmers and public feel inspired and supported and that it would help in making agriculture successful in the state and strengthen the economy. The medium of awareness would be films. KCR emphasised that during their struggle to build a separate Telangana, dance, music and films helped a lot, and so once again aata-paata should help build Bangaru Telangana.
Ridiculing Chief Minister K Chandrasekhar Rao's meeting the Telugu Desam Party leaders have said that while the CM has time to spare and talk to filmmakers, he does not have time to visit the distressed chilli farmers or help the drought-stricken areas. They also questioned how he could publicise and take credit for schemes that have not been implemented yet.  Schemes such as free fertilisers which would be implemented from next year. One of the leaders Ravula Chandrasekhara Reddy said that these songs, films should include the suicides of 3,000 farmers, which have occurred in the past three years during KCR's rule.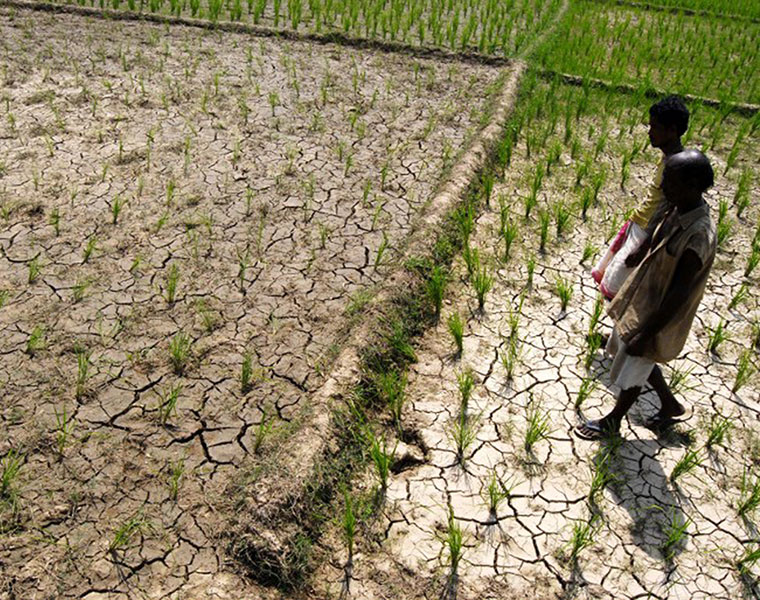 KCR has been under constant criticism for having failed to support the farmers. Recently, TDP working president A Revanth Reddy alleged that the state government can ensure 'support price' for film producers but has failed to ensure the same for farmers. According to a report in the New Indian Express, Reddy is ought to have questioned ""Did we fight for this Telangana where rich movie producers are getting government support while poor farmers have handcuffs for their share?"
Reddy pointed out that the state government ensured that film Rudramadevi's producer Gunashekar gets support price, producers of Satakarni get tax benefits and Baahubali producers got the permission to charge exorbitant rates for tickets. Reddy alleged the TRS government had failed in providing remunerative prices to not only chilli farmers but also others, "Not just chilli farmers, even paddy, cotton, red gram farmers have not got minimum support price."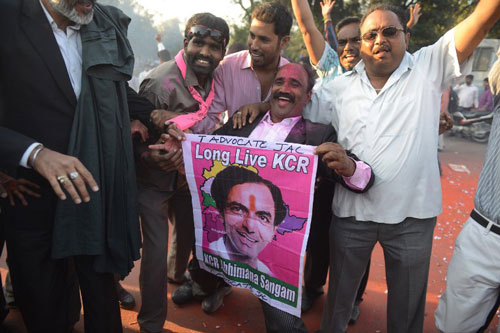 In such an atmosphere of distress, it sure seems like a strange order from KCR to concentrate on promoting his government's good deeds rather than focusing on the current situation in the state. If the people for whom the welfare policies are being made are bereft of its benefits, then what will the songs sing about.
This song and dance propaganda is not a trend in Indian politics. Earlier, even former Tamil Nadu chief minister J Jayalalithaa had people sing her praises. There was a time in the Tamil Nadu legislative assembly when AIADMK members including senior ministers spent a lot of time praising Amma. There were ghostwriters roped in to do the job and ministers speeches used to be peppered with praises of Jayalalithaa.
Surely, KCR needs much more than songs and films to make Bangaru Telangana a success