Telangana closes thousands of schools, gives students Rs 300 as allowance
Close to 4,600 government schools have been asked to shut because of poor enrolment.
This move is going to effect underprivileged students who may have problems travelling to other schools.
Government plans to give Rs 300 as travel allowance to these students.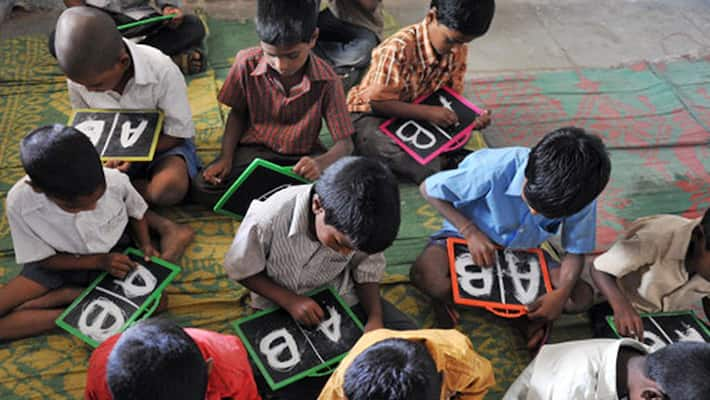 The Telangana government has proposed to pay a very small price for the future of children in the state. Following its decision to shut down thousands of government schools because of poor enrolment, it has proposed to pay Rs 300 as travel allowance to help stranded students from these schools to travel to other schools to continue studies.
Close to 4,600 schools have been targeted for a shut down, given their poor enrollment. These schools have less than 20 students and running such schools is not viable, the government says.
The government has thus merged schools with low enrollments with nearby schools that have reasonable number of students. Even the teaching staff could be rationalised by transferring them from low enrollment schools to other schools.
Opposition parties and student organisations have opposed to this idea and said that this violates the Right to Education Act, which mandates availability of schools nearby. In fact, they believe, that this may also deprive children from underprivileged sections of education. Speaking to the Deccan Chronicle, Congress MLA Challa Vamshi Chand Reddy said, "If schools are shifted to nearby villages and towns, dropouts will increase in poorer sections as parents would not like to send their children outside. Transport is also a problem in remote and agency areas." However, Kadiam Srihari, the Deputy Chief Minister and education minister disagrees and says that this should be viewed as strengthening of the school education system. However, no decision has been taken on how the schools will be merged.
Having said that, it is yet to be realised whether a meagre allowance of Rs 300 would be enough motivation for students from underprivileged backgrounds to go back to school.
Last Updated Mar 31, 2018, 6:36 PM IST