Revanth Reddy organises a photo exhibition of Nerella victims
Retorting to KTR's comment of calling him a tourist, Revanth Reddy called KTR a vagabond
He demanded for a judicial enquiry into the sand mafia
He also demanded for an investigation into Santhosh's lorries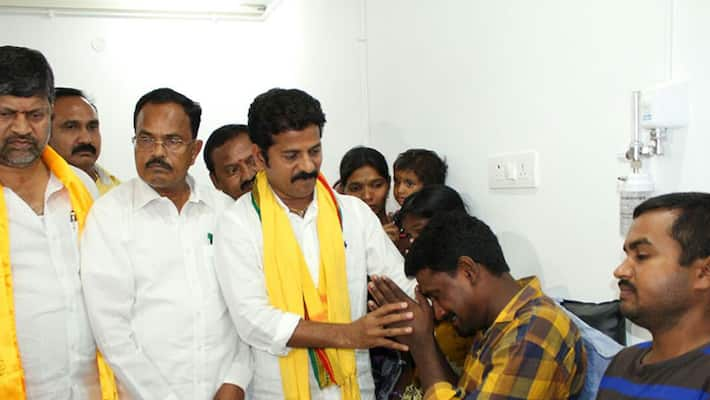 Telangana Telugu Desam Party working president Revanth Reddy fired back at IT Minister K Taraka Ramarao's comment that "All the politicians who visited Sirisilla are tourists". Revanth Reddy said that KTR is himself a 'vagabond'.
Revanth Reddy said he was anguished over the thwarting of human rights and the devaluing of human lives. He accused Telangana Chief Minister K Chandrasekhar Rao of ruling the state with police force and said that four crore people were being sacrificed just because the KCR family was thirsty after money.
He questioned KTR about the ownership of Vaishnavi Granites, Sairam Minerals and Goldmine Minerals. He said all these are the companies owned by KTR's relative and T News Chairman Santhosh Rao. He said KCR's family is behind the sand mafia. He accused that eight lorries with the same number plate were being used in sand delivery.
Telangana TDP organised a photo exhibition in Somajiguda on the victimisation of the Nerella villagers. The exhibition was attended by all political parties. TTDP MLA L Ramana demanded for KTR's resignation and an apology to the Sirisilla people.
Telangana Congress president Uttam Kumar Reddy said that the Congress party had fought for the people and sought to bring justice to them. Nerella incident is a smudge to Telangana, he said.
Speaking on the occasion Retired Justice Chandra Kumar said that the atrocities on Nerella inhabitants is merciless and their wounds have still not healed and urine in blood is seen even after 21 days. He accused the police of torturing the people with the shock treatment after removing their clothes. He said he hadn't seen such torture in his entire career.
TJAC (Telangana Joint Action Committee) Chairman Prof. Kodandaram said that the police targeted 10 families with the allegation that they burnt a lorry. Even when the people complained to the Collector and Police about overload and speed, they didn't bother. This is an atrocity on the Dalits, said Kodandaram.
The program was attended by BJP leader Chintha Sambhamurthy, CPI leader Balaswamy, TDP leader Mothkupalli Narsimhulu and others.
Last Updated Mar 31, 2018, 6:40 PM IST