Here is the real reason why Revanth Reddy sent his MLA resignation to Chandrababu Naidu
Telangana leader Revanth Reddy has resigned from TDP primary membership and as Kodangal legislator
But he submitted his resignation to TDP Chief Chandrababu Naidu and not to the Telangana Speaker
Chandrababu is yet to handover the letter to the Telangana Speaker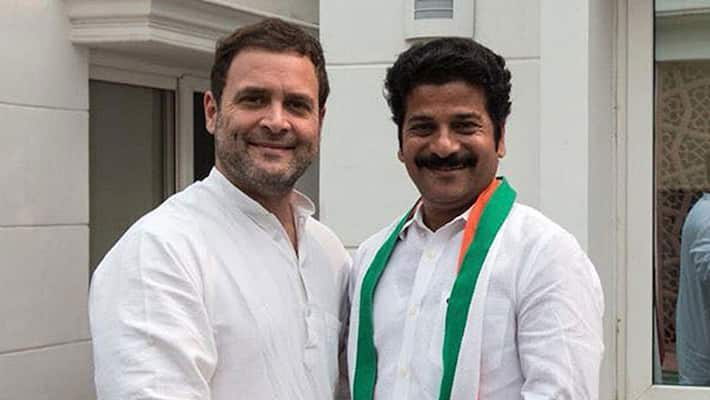 Former Telangana Telugu Desam Party (TDP) working president Revanth Reddy even after resignation from his legislator post is still continues to be Kodangal MLA as his resignation letter is yet to reach Telangana Speaker.
Revanth along with 16 former TDP senior members joined Congress on Tuesday in the presence of Congress Vice-President Rahul Gandhi in New Delhi.
Earlier Revanth amid a high political drama resigned from TDP and later also sent in his resignation as Kodangal MLA. But interestingly he sent his resignation letter to TDP chief and AP CM Chandrababu Naidu rather than the Telangana Speaker.
Chandrababu is yet to send Revanth's resignation letter to the Speaker of Telangana Legislative Assembly. Many connotations arise with this twist of sending letter to Chandrababu. Political thinkers appreciated Revanth's game plan in trying to avoid losing his legislatorship and re-contesting in by-poll.
If Revanth sent his resignation directly to the Speaker, then his resignation would be immediately accepted and by-poll had to be conducted within six months. But if the resignation letter reaches the Speaker through a third person then the MLA would be called to give an explanation and rethink his resignation. He would be given an opportunity to revert back on his decision.
This process may take three months if Chandrababu sends the letter to the Speaker. According to Elections rules, a by-poll cannot be conducted if there is less than a year for General Elections. Since Elections are expected in 2019 not more than one and half years and if Chandrababu takes time to send Revanth's resignation letter to the Speaker, probability of having a by-poll is nil and Revanth will continue to be Kodangal legislator as he is doing now.
Last Updated Mar 31, 2018, 6:51 PM IST