Metpally farmers' intention to submit a memorandum to MP Kavitha backfires
TRS promised to open sugar factory in Metpally but failed to do so
Farmers received news of Nizamabad MP Kavitha's impending visit to Metpally to attend a marriage
They intended to stop the convoy of Kavitha and submit their memorandum
Police aware of the farmers' intention warned the convoy who passed without stopping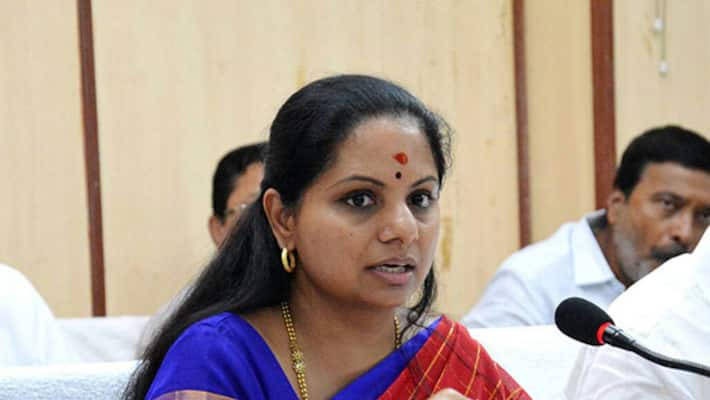 Metpally farmers' staged a protest against the Telangana government for backing away from their promise of opening a sugar factory in Metpally, Jagityal district. When they heard of Nizamabad MP K Kavitha's intentions to visit Metpally on Friday, they planned to submit a memorandum to her but her convoy didn't stop for them.
This incident triggered a fresh spate of agitation from the farmers who raised slogans against the Telangana government and the police. They had also called for a bandh.
Metpally farmers went on a rally from Market Yard to Bus Stand, where they commenced their relay fast. They received news of Kavitha's impending visit to Metpally to attend a marriage and that she would stop to hear their pleas.
But the police flagged off the convoy without letting it stop at the farmers' tent. This aggrieved the farmers who raised anti-police slogans and marched to the Sub-Collector's office where they submitted their memorandum.
Farmers were angry with MP Kavitha for not stopping for the farmers who went ahead to the wedding celebrations. Sugarcane Manufacturing Association President Narayana Reddy and Sugar Factory Re-establishment Committee Convenor Raja Reddy called for a bandh on Saturday to teach the Telangana government a lesson.  
Last Updated Mar 31, 2018, 6:56 PM IST