Kancha Ilaiah filed a police complaint that he is receiving threats
The writer said that the callers threatened to cut his tongue
His book 'Samajika smugglurlu komatollu' had irked Vysya community
Writer and intellectual Kancha Ilaiah has filed a complaint with Osmania University Police Station, Hyderabad, after he allegedly received threats from unknown persons. The writer claimed that he has been receiving threatening phone calls since Sunday afternoon and the callers threatened to cut off his tongue.
"I have been getting several phone calls from unknown numbers since Sunday afternoon. When I answered, they started showering abuses, and someone threatened to cut my tongue. I feel terribly threatened by the calls and messages. It started after International Arya-Vysya Sangham headed by K Ramakrishna condemned my writings on a television channel," Ilaiah said.
The Vysya associations were upset with the author after he published his book 'Samajika smugglurlu komatollu', meaning Vysyas are social smugglers. The associations complained that the title and some of the contents of the book are offensive and derogatory to the community. They also demanded that the book be withdrawn immediately.
Meanwhile, J Venkateshwar, president of Andhra Pradesh Arya Vysya Mahasabha said they are lodging a complaint against the author.
Here is the copy of the complaint Ilaiah filed with police.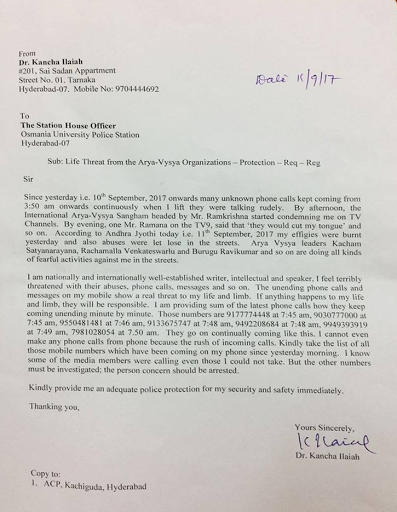 Last Updated 31, Mar 2018, 6:36 PM IST