Pawan Kalyan speech: Explosive points the Jana Sena chief made at Guntur
Jana Sena chief Pawan Kalyan has set the stage for the next year's elections in

Andhra

Pradesh
Pawan Kalyan started with a warning to Union Finance Minister Arun Jaitley over him rejecting the Special Category Status for Andhra Pradesh
Pawan Kalyan also made direct accusations against Telugu Desam Party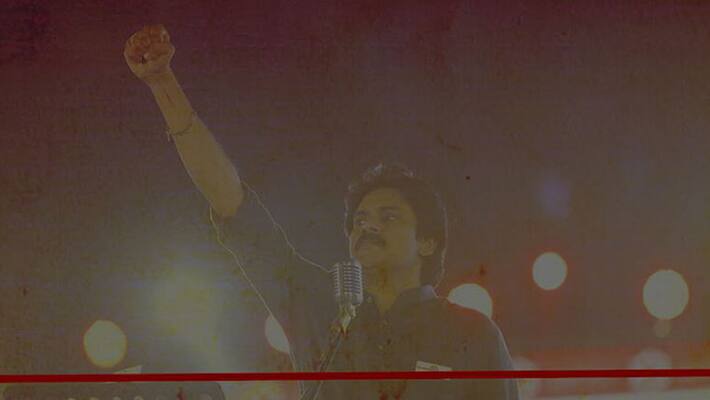 Jana Sena chief Pawan Kalyan has set the stage for the next year's elections in Andhra Pradesh with a massive congregation of fans and party members in Guntur on Wednesday, March 14.
The popular Telugu actor, who has decided to quit films and devote his complete time to politics and serving the people, said Chief Minister Naidu had let the state down.
Pawan Kalyan started with a warning to Union Finance Minister Arun Jaitley over him rejecting the Special Category Status for Andhra Pradesh.
"Respected Arun Jaitley sir, the kind of injustice has been done to Andhra Pradesh for the last four years is burning us, agonizing us, killing us, it is causing a deep pain in us.
"In the temple of democracy – parliament, you promised that you would give the Special Category Status to Andhra Pradesh. It has not happened for not just for 5 years, but for 15 years. Today you are going back on your words.
"Then why should we follow your law, sir? Do you mean to say that the laws are applied only to the people, but not to the rulers? Do you think you are beyond the laws? No sir! You are very much in the purview of law. Kindly don't forget. Respected sir, today, you have forced Andhra Pradesh to be in an agitation mode," he concluded.
Pawan Kalyan also made direct accusations against Telugu Desam Party, including Chandrababu Naidu's son Nara Lokesh, of deep-rooted corruption and vowed to fight against all corruption
Pawan Kalyan said that he supported the TDP-BJP alliance in 2014 for the betterment of Andhra, but the alliance has in turn only given the people rotten laddoos.
Pawan Kalyan has vowed to sacrifice his life in the fight for achieving special category status for Andhra Pradesh. He has also accused YSR Congress party, accusing it of forming tacit deals with the BJP 
The Jana Sena chief also compared Andhra Pradesh Chief Minister Chandrababu Naidu to Janardhan Reddy, saying that Naidu is involved in sand mafia.
For complete details of the speech watch below:
Last Updated Apr 4, 2018, 7:11 PM IST