Revanth Reddy resignation: How TDP's loss is TRS' gain
TRS is busy poaching Revanth's followers into the party while some still adhere to their mother party TDP
Senior Congress leaders are apprehensive about the role of Revanth in Congress when he joined the party
Revanth will announce his plans on Monday to which he has invited all those who are against KCR.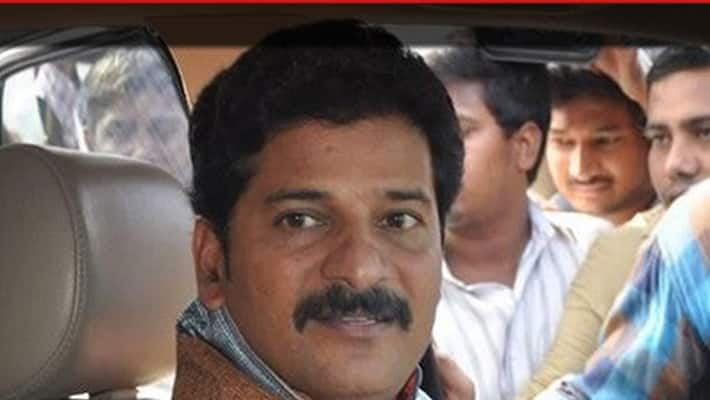 Revanth Reddy's sudden resignation from the primary membership of Telugu Desam Party and as Kodangal MLA on October 28 has once again triggered a party hopping of sorts with opportunists looking at greener pastures.
Word has it that Telangana Rashtra Samithi has already begun inviting TDP leaders and chief followers of Revanth into the party.
Revanth also organised a meeting with his prominent leaders in Kodangal constituency on Sunday at his home. While some leaders attended the meeting, others gave it a miss while others decided to switch to TRS.
Revanth noted for his firebrand comments against Telangana Chief Minister K Chandrasekhar Rao, has been the target of TRS. Now with his resignation, TRS plotted and planned to weaken Revanth and were successful in grabbing TDP leaders from Madduru, Doultabad and Kodangal mandals. Some others joined TRS on Sunday in the presence of Lakshma Reddy, MLA Srinivas Reddy and MLC Narender Reddy in Telangana Bhavan in Hyderabad.
The prominent leaders who joined TRS are former ZPTC Bal Singh Nayak, who was also the chief follower of Revanth, Kommuru MPTC T Venkamma, Appannapalli Srinivas (Pediripad), Ramulamma (Mannapur), Nandipad sarpanch Muddamma, Timmareddypalli sarpanch Chukkamma, former sarpanch Rajaiah and other party workers.
TRS has also succeeded in alienating Revanth as none of the TDP leaders resigned after him. According to sources, TDP leaders are reluctant to leave the party as they have been in the party since its inception.
Revanth was emotional while addressing the constituency leaders at his home in Kodangal on Sunday. He clearly stated his intention of never leaving Kodangal as long as he is in politics and would only contest from there. He said he would also be buried in Kodangal.
He expressed his confidence that Kodangal would rule the Telangana politics in the near future. He invited everyone who is against KCR to attend the meeting to be held in Hyderabad on Monday.
"The true game has just begun…," he said.
On the other hand, Congress is anxiously waiting for Revanth's future step, as to when and where he would join Congress. Since Revanth is yet to officially announce his next political intentions, people assume he would either join in the presence of Rahul Gandhi in Delhi on October 31 or when Rahul will visit Hanumakonda in Warangal district on November 9. Congress has organised a Tribal and Farmer meeting to which Rahul Gandhi would come.
According to sources, Revanth may be given the position of Congress Election Campaign Committee chairman or Congress Party Working President once he joins Congress. Congress senior leaders are unhappy with the sudden prominence given to Revanth.
Senior Congress leaders are dissatisfied with the change in the Congress political scenario and they don't have a say in the matter as Revanth is directly dealing with Congress Vice President Rahul Gandhi.
Last Updated Mar 31, 2018, 7:03 PM IST