Chained and tortured by brothers and sister-in-laws, Telangana woman rescued by neighbours and police
The woman said that she was a graduate and worked as a teacher for several years.
Her brothers, however, contradicted saying that she was mentally unstable since she was 11 years old.
They also produced medical bills of her treatment.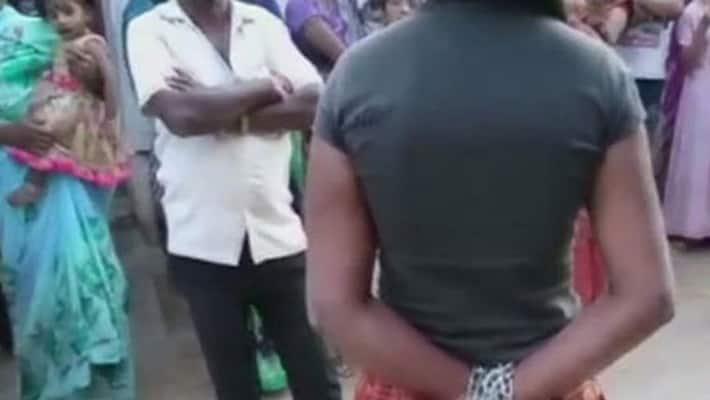 In a horrifying incident in Telangana, a 22-year-old woman- Chityala Geetha- was said to be chained and tortured by his brothers and sister-in-laws who claimed that she was mentally untsable. However, her narration of the ordeal brings a fresh twist to the story. Found crying by her neighbours in front of her house, Geetha had her hands tied at the back with chains and a huge lock dangling from the same. She told the neighbours that she was being tortured by her brothers and sisters-in-laws, who made her do all the household work. 
Speaking to the Hindustan Times, she said, "When I tried to run away from home unable to bear their torture, they tied my hands with an iron chain behind my back and locked it."
Geetha claimed that she lived with her brothers Chityala Narayana, Ramesh and Srinivas ever since their father died a few years ago. A local resident and a neighbour said, "She claimed to have done her graduation in arts and worked as a teacher in a private school for some time. She alleged that her sisters-in-law Manasa, Latha and Radha had been ill-treating her for the last few years and forcing her to do all the household work including bathing their children, washing their clothes etc. Even her brothers used to beat her regularly."
Empathising with her, the neigbours, with the help of local municipal counsillor Guggila Harish took her to the Jagtial police station where her chain was removed. Her brothers were summoned and are being interrogated. They said that Geetha was mentally unstable since she was 11 years old and was often caught throwing stones at people. They also said that a lot of money was spent on her treatment and that she had to be kept in chains to avoid people from getting hurt. According to a report by Zee News, the brothers claimed to have spent Rs 11 lakh on her treatment and have even produced the bills and documents of her medical treatment.
Jagtial town police inspector R Prakash said, "The woman appeared to be very much disturbed mentally though she was speaking normally at times. We are sending her to the hospital to get her checked. If she is found normal, we will take action against the brothers as per the law. In any case, chaining a person is not proper."
Police is also contemplating shifting Geetha to the State Home for Women and Child Welfare in Hyderabad if her claims of torture were proved right. 
Last Updated Mar 31, 2018, 6:47 PM IST