Central Government proposes linking of Rivers Mahanadi-Godavari-Penna-Cauvery
Central government is preparing a DPR to linkup Rivers Godavari and Mahanadi
This is part of the mega linkup project of Rivers Mahanadi-Godavari-Penna-Cauvery
Union Water Resources Ministry in Bhubaneswar will start on the project once the DPR is finalised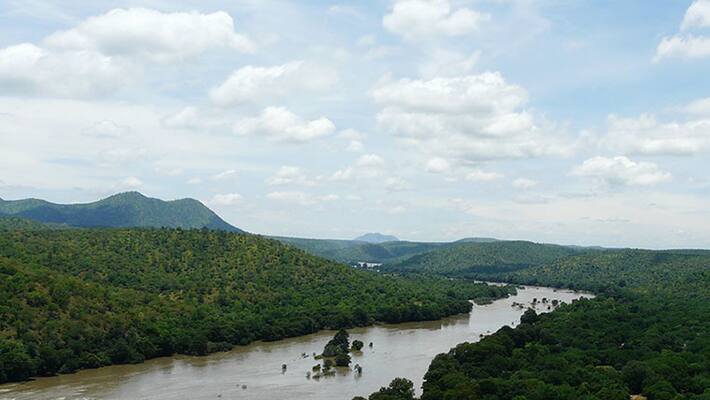 The Mega linkup project of linking Rivers Mahanadi-Godavari-Penna-Cauvery is underway with the central government preparing the DPR (Detailed Project Report). Though the Centre had prepared an earlier DPR, it has been studying to bring in excessive water to Godavari river. Union Water Resources Ministry at Bhubaneswar will immediately work on the project once the DPR has been finalised.
The main agenda of this project is to divert 1265 mcm (million cubic meters) of water into the Godavari. 3.50 lakhs hectares of land in Andhra Pradesh and Odisha will receive irrigation water from this project while 436 cubic mts can be utilized for industries.
1073 mcm will be wasted through the canals dug from Mahanadi to Godavari but in the end 6500 mcm waters will reach Godavari. 822 kms of canals will be dug from Manibhadra dam built over Mahanadi in Odisha. The canals will start from Nayagar in Odisha through Kurdha-Ganjam-Ganapathi districts and enter AP and flow through Srikakulam-Vijayanagar-Visakhapatnam districts to East Godavari district.
The Mahanadi water will join Godavari at Torredu which is 15 kms upstream to Sir Arthur Cotton Bridge in Dowleswaram.  A 70 MW powerhouse will be built at Manibhadra dam at the beginning of the canal. Last year DPR estimated the cost of the project to be Rs 18,000 crores which may vary in the new DPR.
Last Updated Mar 31, 2018, 6:54 PM IST