Blood, violence at Dharna Chowk proof of KCR's tyranny, say opposition
KCR is contemplating on shifting this protest venue to the city outskirts
The Telangana state government is suggesting the use of government land in Malkajgiri and Shamshabad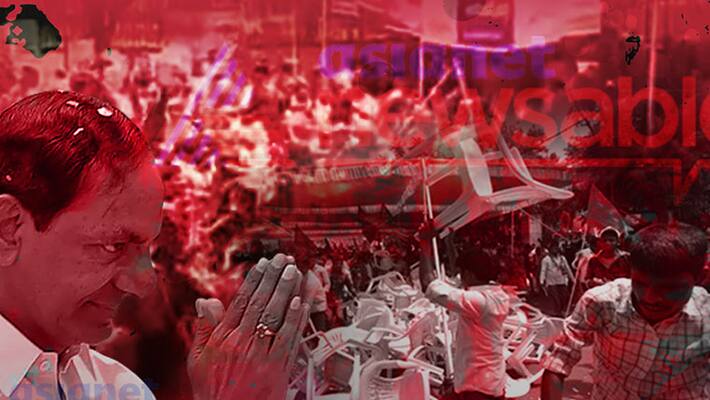 Dharna Chowk, the epicentre of clashes and violence in the city is ironically being used to its massive destructive potential right now. Needless to say it is giving TRS leader and chief minister K Chandrasekhar Rao, a lot of sleepless nights. Now the CM is seriously considering shifting the location of Dharna Chowk.
The agitation to keep Dharna Chowk in Indira Park in Telangana is slowly emerging to be headache for KCR. He is contemplating on shifting this protest venue to another part of the city so that it does not fester like a sore in his governance.
The Opposition, Telangana Joint Action Committee (TJAC) headed by M Kodandaram, Pawan Kalyan's Janasena and more civil society organisations are trying their best to make sure the venue stays the same.
Also read: Clashes erupt in Dharna Chowk, Janasena makes a chaotic entry into people's movement
The Telangana state government is suggesting the use of government land in  Malkajgiri and Shamshabad and have said that these areas will be provided with sanitation, drinking water, medical facilities, tents and more, just like in Jantar Mantar in Delhi.  The city police too are endorsing the idea since it will be lesser law and order problem for them if they are shifted to the outskirts of the city.  
But news like this is sending a very negative image of KCR who is now being blamed for the blood and violence in the city at Indira Chowk. There are murmurs of KCR being tyrannical and this shifting of Dharna Chowk is being considered as a burial of opposition and dissident voices.
In the recent protests which took on a violent nature, it is being alleged that the government had some people pose as locals who were opposing a field for protests here, saying that it was causing noise pollution, traffic problem and that they were not happy with the negative atmosphere.
TJAC has strongly condemned the violence by the police in the recent times upon them, whenever there was usage of force on the protesters. Since KCR became chief minister, a lot of his decisions are being criticised as being autocratic in nature.
Last Updated Mar 31, 2018, 7:00 PM IST