WhatsApp will stop working on THESE smartphones soon; Check full list here
The date for WhatsApp to stop working on old phones is October 24 and these will be mostly linked to devices that are still running Android 4.1 version or even older ones. The list includes phones from Samsung, HTC, Sony and Motorola among the known brands.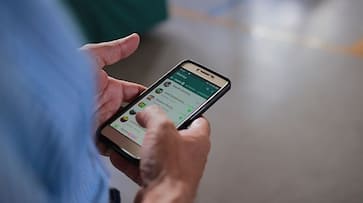 WhatsApp will stop working on a variety of devices in a week, forcing users to either stop using the messaging programme or purchase a new smartphone immediately. We recently discussed this development, and as the deadline approaches, we're revising it and notifying anyone who may still be using outdated Android phones.
The deadline for WhatsApp to stop operating on outdated phones is October 24, and they will largely be associated with smartphones running Android 4.1 or older. Among the well-known brands on the list are phones from Samsung, HTC, Sony, and Motorola.
– Samsung Galaxy S2
– HTC One
– Sony Xperia Z
– LG Optimus G Pro
– HTC Sensation
– Samsung Galaxy S
– HTC Desire HD
– Motorola Xoom
– Samsung Galaxy Tab 10.1
– Nexus 7
Prominent gadgets like the Galaxy S2, which was a strong premium product at the time, are on the list. Even the HTC One performed well in the market and had a solid track record.
Names like the tablet Nexus 7 and even the Sony Xperia Z and Motorola Xoom are also noticeable. Due to WhatsApp's recent advancements and features that no longer function on certain phones, support for these phones is ending.
Furthermore, there is a good probability that WhatsApp security flaws would worsen matters for the firm and its consumers because they will not receive any security upgrades from Google in any format.
Ending WhatsApp support for these phones and tablets and encouraging users to switch to phones that at least come pre-installed with Android 12 or above are in everyone's best interests.
WhatsApp, which is currently owned by Meta (formerly Facebook), will soon include AI-focused capabilities including the ability to create photos, stickers, and even answer questions. People these days will be utilising that version of WhatsApp, which requires strong hardware and a secure operating system to keep them operating error-free.
Last Updated Oct 16, 2023, 6:29 PM IST