Viral photo: Bengaluru techie bumps into Google CEO Sundar Pichai on San Francisco street; netizens react
With over 540K views, the image has gathered multiple comets. In the image, Pichai can be seen dressed casually in blue jeans and a jacket. He does not have any security around him. However, on being asked about the same, Sid confirmed that he was with a guard who then took the picture.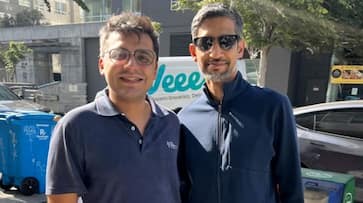 Can you ever imagine taking a stroll and running across a famous person? What would you do if you did, and how? Similar situation occurred with a programmer from Bengaluru who was casually strolling around San Francisco when he ran into Sundar Pichai. The director of growth for Retool in India is Sid Puri. Sid stumbled upon the Google CEO while he was simply idly strolling along the street. He posted a photo that he took with Pichai on 'X'. 
"Go to SF they said, no one prepared me to just run into Sundar Pichai on the street," Sid wrote in the caption.
Since being uploaded, the picture has gained a lot of attention and replies. The picture has attracted many comets and has had over 540K views. Pichai may be seen in the picture sporting a blazer and blue trousers in a laid-back outfit. He is not surrounded by any security. But when questioned about it, Sid said that he was with the guard who snapped the photo.
On LinkedIn, Puri revealed that the picture was taken last week, shortly after he landed in San Francisco, US. 
In the comments section, while some users asked questions about the encounter, others simply wanted to know what phone Pichai was using. 
Last Updated Sep 26, 2023, 3:49 PM IST