Stayzilla CEO and founder Yogendra Vasupal has been arrested.
He has been arrested on criminal charges, for what seems like a civil court case.
Co-founder Sachit Singhi was sent voodoo dolls with a photo of his son.
Stayzilla CEO's blogpost
The morning began with talks about how Chennai-based startup Stayzilla is in trouble. A blogpost was shared around wherein Yogendra Vasupal shared what's been going around with Stayzilla as the company gears up for a reboot. 
He spoke about two cases - first about an abusive landlord and the second about Jig Saw Advertising. The landlord who allegedly abused a Stayzilla staff had earlier accepted a post-dated cheque, but later started demanding the money immediately. Stayzilla has defaulted over ₹1.5 crore dues at Jig saw. 
Watch the video showing a Stayzilla staff being assaulted below:
"I was told that there is a case against me by somebody from Chennai for cheating, intimidation and etc. I recognised the name of the complainant and informed them that there was a dispute between 2 companies and we had asked the other company to take it up in the court. I don't personally owe anybody money and I am wondering how can they get confused on such a basic matter as this was a clear civil case. I also pointed out that we have been asking the other company to take it to court if they felt they were wronged as we felt within our right," Vasupal wrote in a blogpost. 
Stayzilla CEO goes missing and then arrested
His wife Rupal claims that the family didn't know about his whereabouts. Singhi said that Vasupal went missing and his last confirmed location was commissioner of police department. "The Inspector then lay down the line stating that sending mufti policemen was the first way, the second way was that they will file an FIR and send uniformed policemen and have me arrested and jailed," he had earlier written. 
Rupal, Vasupal's wife has updated the post early in the wee hours stating, "He was taken to the magistrate at 10.00 PM though courts do not function after 6 PM. His whereabouts from when the cops took him into custody today from 11.am to 6.00pm where not known and the lawyer and our family had to go from one station to another looking for him."
"This shows how money and influence can supercede true and thorough investigation in a country which talks so much about start-ups and culture," she added.
 
Civil case, but criminal charges
According to this report, the cops were under pressure to take the case under criminal proceedings from 'higher authorities'. Jig Saw owner Aditya CS and his father visited the police station and told Vasupal if he pays the money, no FIR will be filed. However, Vasupal was adamant to handle it through court. 
"I learnt that the Inspector from the Chennai police station was there at the Bangalore station and was the source of the complaint. I was shocked. Just the previous night my Lawyer had stated to me that he had met the Chennai Inspector over the weekend and that he had guided my lawyer to respond to the false complaint first and then provide our complaint on the threats and harassment from the owners of the media agency," he had earlier written. 
Threats and voodoo doll
Vasupal has also mentioned threats. Sachit was threatened by people visiting office and on call, Vasupal had said. But, what was even more shocking was the voodoo doll sent with Singhi's son's photo. "Sachit also got some doll delivered to his home on March 9th with the image of his son. We are still figuring out what this means," he has said. 
Meanwhile, reports online have pointed out at this Facebook post on the Chennai Shopping Page asking: "Where can I buy Voodoo Dolls or get one custom made in a day? A friend needs for a shoot."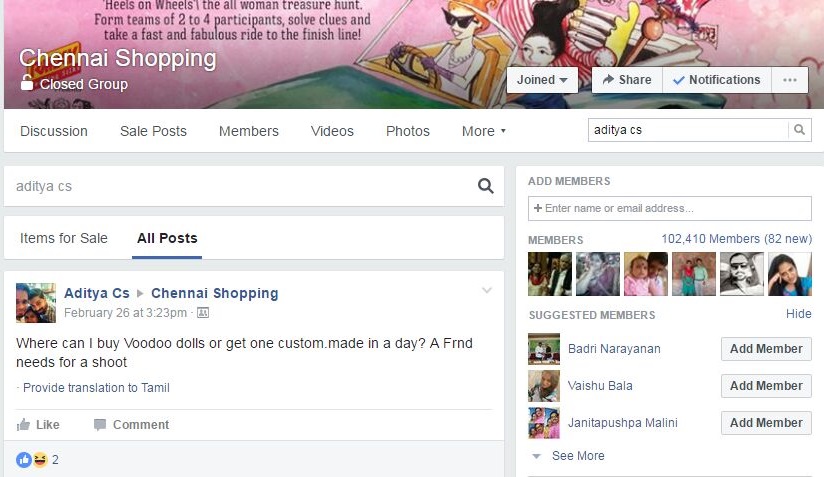 Startup community supports Vasupal 
The startup community has come out to support Stayzilla CEO, and #ReleaseYogiNow was used by many. 
Jig Saw's Aditya  slams startup culture
Jig Saw that helped execute Stayzilla's airport advertisements said that deficiency in services was never conveyed. 
"How long will advertising agencies and media houses bear loses because of irresponsible wannabe entrepreneurs who manage to get funding just to live a 5-star life for a few years and then finally shut shop and expect the hard working small time business people to suffer?," Aditya told YourStory.
Aditya had earlier said,"These startups get funding, they spend carelessly, they live a hunky-dory life and keep our payments on hold, and then shut shop saying we don't have money. People doing genuine business like us have to bear the brunt."