Bengaluru and e-junkyard: Where's the e-waste recycle policy?
Waste from electronics and electrical is known as e-waste.
Dumping it into a dustbin or selling it to a local kabbadiwala is dangerous for the environment.
E-waste releases harmful toxins and chemicals that affect public health.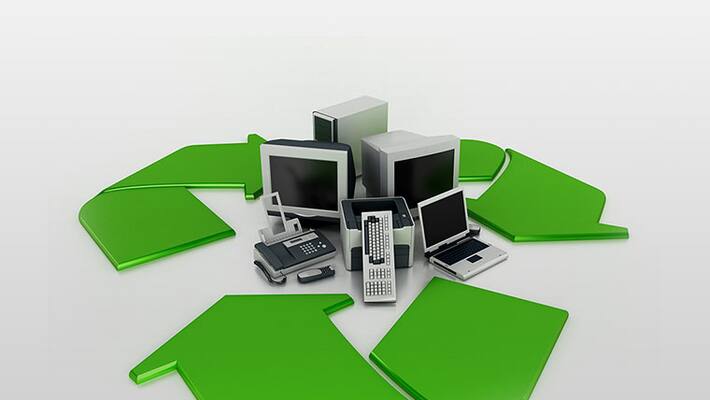 In Bengaluru, we have been segregating wet and dry waste. But, did you know your trash bin isn't the right place to dispose off USB cables, broken mouse, PC components or an old useless damaged phone? Electronic and electrical waste is known as e-waste. It doesn't rot away and instead eats into our environment, posing a toxic threat to human and animals. Over the years, it has become a growing problem in India.
According to a study by Assocham-KPMG released last year, India is the fifth largest producer of e-waste with 18.5 lakh tonnes of e-waste each year. Out of this, 92,000 metric tonnes e-waste per year is produced by Bengaluru, making it the third largest in India. While we are the tech and IT hub with even a place called 'Electronics city', it's sad that we don't have an in-house policy mandating how companies, people, recyclers handle e-waste. 
It is important to understand why we need proper scientific disposal of e-waste. An electronic product is made up of metals like steel, non-ferrous metals like silver, gold and even plastic. When disposed off without following the right procedure, the residue after taking off the precious metals and useful parts, are disposed at waste dumps or burnt (releasing toxins in air, soil), dumped in rivers (contaminating water) and so on. For an informal worker, the disposal method would simply mean burning it off after extracting the metals.
Private players
There are several private players who have emerged to manage your e-waste. For instance, Atterobay will help you dispose off your old useless gadget. All you need to do is go the website, and choose your device model. On choosing, it will ask you if the device is in excellent, working or non-working condition and depending upon your choice, it will quote an amount for your home. The device will be picked from your doorsteps, and you will get paid once the device is inspected.
Another such service is RecycleGuru. You can dump your e-waste at RecycleGuru and it will ensure your e-waste reaches authorised vendors who are capable of safe disposal of the e-waste.  Batteries and light bulbs are also e-waste, and Recycle Guru has solutions to get them disposed off too. 
WEEE Recycle, which works at establishing e-waste channels to enhance environment friendly recycling, has a list of collection centre where you can drop your e-waste. Here's the list of centres in Bengaluru. Similarly, we have other players like E-Parisaraa. E-Parisaraa, is another private player, an e-waste recycler approved by both Central Pollution Control Board and Karnataka State pollution Control waste. It recycles and reuses e-waste in an efficient with techniques sustainable to Indian conditions and without harming the environment. 
Government rules and the lack of initiatives
Centre has set rules for handling e-waste that State governments need to implement. According to the Electronic Waste Rules 2011 only an authorised businesses can collect and process e-waste. A company that produces e-waste is responsible for disposing or establishing channels to dispose it off in a safe and secure way.
The rules also state that as a consumer it is your duty to channelise the e-waste generated through 'collection centre or dealer of authorised producer or dismantler or recycler or through the designated take back service provider of the producer to authorised dismantler or recycler.'

A recycler of e-waste requires an 'authorisation from concerned State Pollution Control Board in accordance with the procedure under the sub-rule.'  Last year, we saw the government tightening these rules to a certain extent. The norms were made stricter to put an end to unorganised dismantling of e-waste.
"People are after precious metals like gold and silver. They take it out of the e-products and then burn the leftover which generates toxic gases. They also throw the waste in water. All these pollute soil, water and air and affect human health, the Union environment Minister had said last year.
Last year, we saw new rules talk about financial penalties and some strict ways to handle and dispose e-waste at every level. The E-Waste (Management) Rules, 2016 states, "Department of Industry in State or any other government agency authorised in this regard by the State Government, to ensure earmarking or allocation of industrial space or shed for e-waste dismantling and recycling in the existing and upcoming industrial park, estate and industrial clusters."
Setting rules may not be enough, and there should be enough emphasis on getting them implemented. I asked a few people how do they dispose of e-waste, and the most common answers were - 'clueless, trash and we don't know'. In a city inundated with IT professionals, tech enthusiasts and netizens, the biggest hurdle is awareness. Educating people about handling e-waste would require government initiatives.
Manufacturers, consumers and government initiatives together can pave way to efficient handling of e-waste. But, it is probably time Bengaluru takes matters in its own hands to create an in-house policy for handling e-waste before we turn into a junkyard. 
Last Updated Mar 31, 2018, 6:40 PM IST